Home > Articles > Smart Up Your Look With Designer Suits For Boys
Smart Up Your Look With Designer Suits For Boys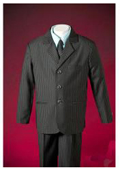 Suits are an inevitable part of a male's wardrobe. It is the most important and the most sophisticated men's clothing item. So much so that even small boys have certain affinity towards them and without mention, it looks great even on small boys. Suits or as can be called designer suits for boys do come in various styles just like that of a men.
A suit can be differentiated in three major styles of suits according to the countries in which they originated, namely, English style, continental style and American sack suit according to the experts. Apart from these, suits vary as single breasted and double breasted suits. Further, single breasted suits vary as two-button and three button coats. All these styles do prevail in the category of boys dress suits as well.
A suit is very old and classic outfit that has withstood the testing times and ever changing fashion trends.
Many fashion and trends came and went but none can take over the position of a suit although many changes could be seen in the suit with different trends. But despite all these the basic layout of the outfit remained the same. A suit is a pair of trouser and jacket made of similar fabric which is meant to be worn together with a matching formal shirt and certain accessories to complete the look. There are certain rules that must be followed while wearing a suits and all this applies in case of boys dress suits also. The rule is that ¼ to ½ inch of cuff shows and about ½ inch of the top of the collar above the jacket's collar. Just like a men's suit, boys dress suits can also be accessorized with the brooch, neck tie or bow tie, a waist coat or a cummerbund. A boy's dress suit adds a certain amount of charm and elegant look to the otherwise cute and boyish charm. So, just dress up your little boy in a charming dress suit and he surely will be the center of attraction of any event.