Home > Articles > Italian Suits Men With Colorful Designs!
Italian Suits Men With Colorful Designs!
Italian suits for men in stylish designs are all that you will need for your formal occasions. They are made to look very well suited with every style and comfort. They get that tinge of handsomeness when they wear it with good quality fabric and designed in perfection to one's body shape and figure. There is a lot of comfort element that is attached obviously. Designers give the shape and pattern only on custom requirements on request. Besides the ready-to-wear outfits for year round, there are immense quality suits which are available in mensitaly.com. They come with purposes like formal wear, semi-casuals, casuals, comfort elements, weddings, etc.Italian suits for men are of various styles including double breasted suits, 2 button suits,charcoal grey suits, 140s pure linen suits, worsted wool suits, 3 button suits, premier quality wedding suits, and many more varieties too. All of these in very classy designs and cuts with lining quality is given for longevity in styling elements and long life when dry-cleaned. This is one major highlight that these suits get.Double breasted suits.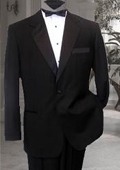 Solid black premier suits
The mens black solid premier suits in rich fabric of rayon and poly lining is made to suit well with every mans desire to get that handsome look when he is out. He can make heads turn with the custom fit and perfectly designed solid black mens suit. These are very bright and charming when worn with a red tie in contrast finish. Bordered with velvet lace collar is another choice option in these suits. Vested and besom pockets with lining is one beautiful feature for style. Charm and charisma when there is fitting perfection will enhance the overall look.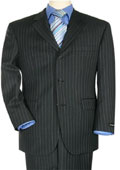 Navy blue pinstripe suits
Navy blue suits in good style and brightest color combinations with contrast borders are in trend. They are hugely carried away by all. They get a special attention when they design it with good quality. There is good amount of time spent on research in such suits when they are designed. As designers carefully scrutinize the needed trendy changes as according to time change. Vested and premier quality pinstriped suits are very classy all time. Evergreen traditional pinstriped suits are patterned with red and black tie and lace border to give a classy touch.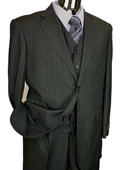 Black pinstripe suits
Very unique and authentic black pinstripe suits with good quality finishing is made to look certainly beautiful and classy on those who like to keep themselves very well maintained. The finish is very well done as compared to many other suits. The online shopping experience is itself very well done and maintained. To those who like to get custom fitted clothes and pinstriped suits, can get them customized too. All of these in good quality and premium rich fabric comfort that is imported from Spain and Germany. Italian men's suits are always special.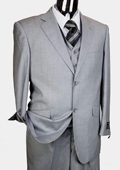 Light grey pinstripe suits
Most of the light grey pinstripe suits for men from mens wool suits category are made with utmost quality and dedicated staffs of the manufacturing units with experience and professionalism are utilized to design extremely beautiful cuts and designs on every suit. They are unique in every way and made to get that charm in all angles possible. Tall Italian men will look certainly dignified when he wears it with formal mood. Light grey pinstriped suits are of that charm and dignity and made to suit well in all budget friendly rates.
Blue small pinstripe suits
Blue small pinstripe suits for semi-casual wear are very trendy in patterns. Contrast shaded pinstriped suits with minimal embellishments done are very apt for a cocktail party also. They give a comfort that you will not get in any other suit. Certainly well suited material fabric that is of import quality is one specialty in these suits. They are highly classy in looks, patterns and rates also. Very budget friendly prices and special offers are running for year round wears in pinstriped suits for men.