Home > Articles > Add Variety To Your Wardrobe With Cheap Men's Dress Shirts
Add Variety To Your Wardrobe With Cheap Men's Dress Shirts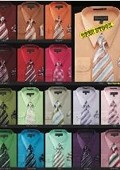 Dress shirts are an essential part of men's wardrobes. These are the kind of apparel that men can't possibly do without because it is not possible to wear T-shirts and jackets every where. Also, they are the perfect complement to an expensive suit or a tuxedo. We offer a wide range of cheap white dress shirts that will enable you to purchase as many dress shirts as you possibly can at whole sale prices, to add to your collection.
Why dress shirts are absolutely essential
There is something about dress shirts that exudes manly elegance to such an extent, that seldom do you need an accessory to enhance your look while wearing one. A dress shirt can be worn with anything, an expensive tuxedo or a suit or a jacket. You can wear dress shirts with a pair of jeans. Just roll up your sleeves, leave the collar buttons open and you will look absolutely perfect for a day out or for a casual get together. If you have to attend a formal or semi-formal event, then pair your dress shirt up with dress pants, add a suit or a tux or a tie and you're good to go. Whether it is a business meeting, or wedding or a meeting in your club, wherever it is, a dress shirt is indispensable to your wardrobe.
You can't have just one
Dress shirts are something that must be stocked up on, because there will always be some place where you need to be present that demands that you wear a dress shirt. Although you can wear the same dress shirt, and make it look different every time with the right complementary clothing along with it, there is now no need for that. You can wear a different shirt every time because you are getting the best available quality of dress shirts, at some of the most competitive prices in the market.
You can buy cheap men's dress shirts and make sure that you are ready for any event, or gathering that you have to attend and look stylish and comfortable.