Home > Articles > Never Fail To Make A Style Statement With Charcoal Suits
Never Fail To Make A Style Statement With Charcoal Suits
One of the most effective way to impress and onlooker is by sporting a smart, perfectly tailored, charcoal gray suit that dismisses the traditional ways of dressing and introduces a new, classy way to make an appearance and impact.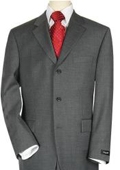 Make any look work with a charcoal suit
You can make any look and any wardrobe look fashionable and stylish with the addition of a charcoal suit. These suits are not only available in the deepest, most pure of black, but they also come in more unconventional shades of grey and black. There is a special category of class and sophistication that a charcoal suit can bring to your wardrobe. The contrast between the dark, polished look and feel of the suit with the light colored dress shirt is indeed a classic look that is never a sore sight.
A charcoal suit is already a spectacle in itself, but if you need to enhance your look, then there are several additional accessories that you can use to make sure that you truly shine. The suit provides a dark background to anything else you decide to adorn your suit with, whether it is a necktie, or a bowtie, or cufflinks or a breast pocket handkerchief.
Whatever you decide to wear with your charcoal suit, and wherever, you are bound to stand out and look distinguished.
Formal suits with a touch of style
The transition from informal from formal is not an easy one, but once you own a charcoal suit, that will cease to be a problem. It is undoubtedly a good investment, because you can make your charcoal suit look different every time you wear it. Whether it is for an interview, or a business meeting, or an official gathering, you can easily impress people with a charcoal suit.
Our services are such that we offer impeccable fittings and a wide range of suits so that you have no difficulty finding a suit according to your exact specifications. You can choose the suit that you think will suit you and we will make sure that it occupies a place of pride in your wardrobe, because of the impeccable fittings, and expensive feel and look of the material. When you dress up keeping in mind a formal/semi formal event, or a business meeting, italian charcoal suits can never go wrong.