Home > Articles > Boosting The Masculinity With Our Range Of Crocodile Men's Wallets
Boosting The Masculinity With Our Range Of Crocodile Men's Wallets
Leather wallets, for long had been holding an aspiration for it when it comes to the perspective of men's fashion. A well chosen wallet brings that masculinity in the overall style quotient for men. In the list of leather wallets, crocodile mens wallets demand a special mention with its capacity to gear up the public look. At our stores, our mission had been to utilize the generic features of the crocodile skin to shape up the fashion for men in more exuberant ways. The first and foremost feature of our range of crocodile mens wallets would be the adherence to the quality standards made at our end.
Though the skins of the crocodiles make the best grades of leather accessories, it requires mastery and excellence at the manufacturing stages so that the end product shapes up perfectly. This is what exactly we have done. The product range we offer under this category had been carefully manufactured out of authentic crocodile skins and hides, which is probably one of the best types of commercial leather. Asides, it had been our usual practices of being careful to the minute of the details that extends to this product range as well. May it be the stitching or the seaming, the buyers had been left with no point of complain about. With all these measures being observed, the crocodile leather wallets that we offer gets hallmarked with exoticness and elegance in its style and design with no compromises being made on the parameters like durability. With us, the buyers can be assured of getting longer life stretches for the product he procures.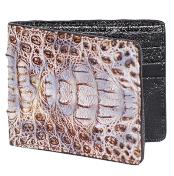 The designs on our range of products prominently display the umbilical scar design that ensures that authenticity of the raw materials used. Understanding the varied range of tastes and choices, we have to offer much wider varieties, may it be the design or the color shades or the size of these mens crocodile wallets that is meant to match with all choices and needs. Besides, competitive pricing had been made on these products so that people with all size of pockets can opt to have one for them. Since the first day of offer to the market, our crocodile leather wallets had drag upon it the attention of buyers and once they set on to use it, it had been an experience of good feeling with its uses.
The hallmark of our business orientation is clarity and the adherence to fair practices. We had never minded to walk few extra yards to meet the customer demand and eventually to surpass them. At our stores, there had been no history of selling products to the customers by acts of misleading their choices. We hold it as a mark of achievement that a customer who once buys a product from our stores had never left us behind. As such, we consider our customers to be our patrons and we are always committed their experience of shopping with us delightful and worth to remember.