Home > Articles > Be The Real Man In Suit
Be The Real Man In Suit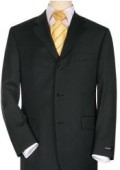 It is extremely important to make a good impression in your workplace. For this reason, selecting the right attire is extremely essential. There is nothing that makes a proper impression like a man in suit. A well fitted suit gives you a good impression about its wearer and his style. Not only does a man need a suit, he needs a suit that he is comfortable in. Since, men spend most of their daytime at the office, it is important to select the right suit that will help him stay relaxed and feel good. To make shopping a good experience, our website www.mensitaly.com updates the collection and offers you something new all the time. So, if you are looking for great formal wear at affordable prices our website is the place to be.
A suit has become a staple in every man's wardrobe nowadays. In fact, business executives cannot imagine heading to their workplace without wearing a fitted business suit. When you pick up business suits, you need be more careful so that you get the right one. There are certain considerations when you buy a man's business suit. Even though you know these considerations you must know how to wear it right. A right suit can make a good impression about you and an ill fitted suit can have an equally wrong opinion about you.
The style guide
When was the last time you came to your office with a flawless look? Or when did you last receive compliments from your colleagues for being well dressed? The answer to both these questions might be no. This is because you haven't spent a lot of time thinking what looks good on you. Remember, you simply cannot wear any business suit to the office. You must know what looks best on you. There are various formal suits colors for men. It is absolutely a personal choice as which one to pick. However, you must also make sure the color you choose suits you well.
* The workplace look - A well fitted man business suit in navy color makes for a good style statement. Additionally, if you wear the suit with light blue shirt and a patterned tie in brown and blue, you will get a look that is hard to ignore. Wear the suit with black wingtips.
* Go bold with shirt-tie combo for business suits - Wearing business suits need to be boring if you can add some personal style to it. What you can do after selecting the suit is match the tie and shirt. For instance, if you pick up a peach color shirt make sure that your necktie contains this color along with some other shades.
* Let the two button style do all the talking - A man in suit should always stick to two button style. Even though you get other options, this is the latest in trend so you must follow it.
In case of trousers, you can stick to pleated one. This looks good, but is again a personal choice. Make the choice of business suits based on your body type to help it others a great impression. You can buy latest men's formal wear and more only at our website. Our website www.mensitaly.com even gives you a pretty good discount on purchased outfits.