Home > Articles > Amazing Collection Of Mens Exotic Shoes
Amazing Collection Of Mens Exotic Shoes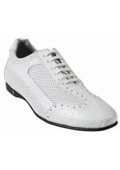 A formal attire would be incomplete without a pair of mens exotic shoes. At mensitaly, there is an amazing collection of exotic shoes which include shoes made of genuine animal skin. From the classy texture of crocodile to ostrich, alligator and lizard skin, one can find a whole range of leather here. Made with the best leather and handcrafted using high expertise, these pair of shoes will give an extra edge to the formal look. These shoes are a perfect blend of premium style and superior comfort. These are available in wide array of colors that include black, gray, olive, navy, brandy and bone to name a few. These colors are neutral and can easily be worn with a wide variety of outfits. The ultra suave collection of shoes have inner leather lining and soft cushioned foot bed to provide maximum comfort. The leather outsole and non- slip heel blend style with functionality. These also feature lace- up front for additional fit. These shoes are easy to wear and easy to maintain. Being made of premium grade raw materials, these are extremely durable. All in all, these shoes are worth investing in.
Classy brown shoes Brown is the most popular color when it comes to formal shoes. The color being neutral, these shoes go well with a wide variety of outfits. The shoes are made of premium quality leather that comes from exotic animal skin. The shoes are ultra soft giving immense comfort to the wearer.
Elegant navy shoes
A pair of smart and elegant formal shoes is something you cannot do without. Mensitaly has some amazing collection of men's shoes that are not only eye appealing but also comfortable to wear. These navy shoes made of pure leather has inner lining and cushioned footbed for ultimate comfort.
Smart trim black shoes
A smart black shoe is a wardrobe staple when it comes to your formal collection. This pair of trim black shoes is made of premium grade leather that makes it look extremely sophisticated. The best quality material ensures its longevity as well as comfort to the wearer. These shoes have an inner leather lining as well.
Sophisticated susa grey shoes
These susa grey shoes made of genuine crocodile and ostrich trim is worth a buy. With lace- up detail and an impeccable finish, these shoes are not only nice to look but comfortable to wear also. The inner lining, cushioned footbed and quality soles give ultra comfort to these shoes. Chic onesto dark brown shoes. Formal shoes made of combination of crocodile and ostrich skin is the best. This pair of onesto dark brown shoes work in the same combination. The color is highly sophisticated to look and takes care of much of the needs of the buyer since the color is neutral. The lace up detail makes it look very chic.