Home > Articles > Mens Tuxedos - Different Types
Mens Tuxedos - Different Types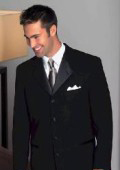 To select the right tuxedo formal wear for an event, you need to know completely know not only its types that are available but also the formality of the occasion. You can then comfortably pick the type of coat and then add the appropriate accessories.
Assuming the event is a wedding, most people invariably concentrate on the bride's gown and the gowns to be worn by the bridal party. They little realize that finding the right tuxedo for the groom and his groomsmen can be equally daunting. Since there is a wide choice, your selection becomes easier if you first familiarize yourself with all the available options. It has to fundamentally match the body type of the person.
For a daytime wedding, the choice could be a dark gray or black sack coat or gray waistcoat, a white pleated or off white standard shirt, long necktie, along with black business shoes. For an evening wedding, it is better to go in for a dark tuxedo or business suit, white shirt, and coordinating shoes if it is a winter wedding and for a summer evening wedding, a lighter colored or navy business suit, white shirt, and long necktie with coordinating shoes.
Again, for a daytime formal wedding, it is best to choose a gray or black morning coat or gray waistcoat with gray, striped trousers, a stiffly starched white shirt, gray gloves, and as usual black leather shoes. For evening formal wedding, you may wear a black tailcoat with matching trousers, a white pique waistcoat, white shirt that has been starched, a white bowtie, white gloves, and standard black leather shoes.
Cutaway coat - a long coat usually in dark grey are generally worn in morning weddings. Some of the leading brands are Calvin Klein, After Six, Fumagelli, Geoffrey Beene, Giorgio Bissoni, Neil Allyn, and Manzoni. Dinner jacket should be of formal standard length with notched or shawl collar, preferably in white or ivory only.
Full dress tails or tailcoat, usually short in the front and long in the back is best suited for formal occasions. Regular coat of formal coat length which extends to the second knuckle can be worn for both daytime and evening events. For daytime event, formal coat with a regular cut without a satin lapel can be worn with vest of contrasting color and a four-in-hand tie. High end formal dress coat with a cosmetic vent in the back of the coat, creating the rear tails is specifically recommended for the ultra formal, evening occasions.
It is the standard formal coat length, with single or double breasted satin lapels is ideally suited for almost all formal occasions including weddings, prom and tux required events. Vintage or outdated styles that are not manufactured in large numbers are still a classic formal wear to make you stand out. Waist coat or a coat that is tight fitting and ends at the waist is worn at evening functions with matching or even contrasting color trousers. White ones are only for certain tropical climates; it is best to avoid them. You will find it heartening to know that with the right selection you will not go out of style and can use the tuxedo for future events without having to worry about money you are spending.