Usually all events are divided into two categories namely formal and informal events. Hence wearing formal attire is more appropriate when you need to attend a formal occasion like wedding, dance shows and other special occasions. The black tie and white tie are the two main types of formal attires worn especially when the invitation state that it is a white tie or black-tie event.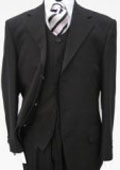 What formal attire is best suited for an occasion largely depends on the kind of event and the time of day. A tuxedo with a black bow tie for men and an evening gown or cocktail dresses for women are known as formal attire. If you are looking for the best of formal attires for men and women, visit MensItaly, the store that offers unique formal attires of various sizes and features.
Between the two formal events the white tie and the black tie, white tie is the most formal event. On such invitations a man has to put on his best black tailcoat with matching black trousers that looks sophisticated when there are black satin stripes running down the outside seam with white suspenders. To match this extremely formal look he has to wear a stiff fronted white shirt that has a wing collar, white bow tie, white waistcoat and the footwear should be of black-patented leather. To complete the attire a man can accessorize the shirt with white or silver cufflinks, white square pocket and a traditional black top hat.
For a white tie event, women also have to be in their most formal attire like the ball gown with very little exposure and the floor-length evening dress too can be worn as formal attire on such events. White gloves are typical and traditional style for women that are taken out during dinner, appropriate silver or white necklace and matching earrings are the best options. The affluent class mostly wears white stone-studded accessories like diamonds. Bracelets are worn over the gloves that make them visible and a decent shawl or wrap is worn to complete the formal attire men .
As formal attire, the black tie is less formal and men normally wear standard tuxedo or dinner jacket with matching black pants. To look sophisticated a white dress shirt is worn that has pleated fronts and turndown or wing collar. The black cummerbund or evening waistcoat is also worn to look stylish. To finish the attire add the black bow tie, a white pocket square and patent leather shoes.
There have been great changes in the outlook of men and fashion trends too have undergone great innovations. In place of the traditional black or white suits, mid-night blue color is accepted and the jackets can be single breasted or double-breasted according to your preferences. Peaked lapels or shawl or notched lapels are also being worn for formal occasions. Women too can go for their dressy cocktail dresses or tea-length attires to attend black tie events but skin-tight dresses do not go well on such occasions especially when you need to dance.
Related Articles