Home > Articles > Buying Mens Formal Blazers
Buying Mens Formal Blazers
Buying mens formal blazer can be quite a daunting task as an improper fitting blazer does not only spoil the grace of the complete look but also can cost as an entire wastage of money. Therefore it is very important to shop right and shop from the right place. MensITALY has a wide variety in men's clothing. You name a piece of men's clothing and you will surely find it on www.mensitaly.com if not anywhere else. So what is it on this online shopping portal that sets it apart and makes it so much in demand by the people? The obvious answer to the question is that the variety of collection, the exceptional quality and the unbelievable prices that they offer for their customers. On and off they also have sales, so there is so much to pick up while shopping on this site, no matter who you are shopping for!
Getting back to the topic of mens formal blazers, how do you go about buying a perfect piece of it from this wonderful shopping website? For this you need to know your body measurements, measured in the prescribed typical way as tailors do. Generally for blazers, the chest and shoulder measurements are considered the most important. To get these measurements, lift up your hands a little from your sides and run a measuring tape around. Then measure the shoulder length from one side of the shoulder edge to the other. Now for example, the measurements come to 40 inches, then that is considered to be the size of the blazer while purchasing it.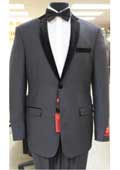 Another important factor is consideration of what kind of vents suits formal wear are you looking for? The market has varieties of single breast and double breast mainly. Both of these kinds have a unique appeal of their own. Single breasted blazers are very versatile in nature whereas double breasted ones have a regal appeal. One can team up these with semi formals, casuals and formals as well. Do not forget to pay attention to the color of the blazer. Make sure that the color is such that it sticks mostly to most of your shirts, trousers and sweaters. Therefore you must pick up colors like navy, black or gray as they are the safest ones.
The variety offered by www.mensitaly.com is so much that you will be confused which material should you opt for your mens formal blazers. Generally wool and tweed blazers are quite popular choices, but you can opt for cotton or suede blazer as well. Some of these materials are washable, while some require to be dry cleaned only. Make sure to go through the instructions on the label of the blazer to get your blazer washed right. You can check the comfort of your blazer by trying them on to experience its fit and feel. Move around normally on all ways like walking, sitting, standing up while the blazer is on you. This way you will understand how the blazer is moving on the body and how comfortable it is. As soon as you understand the fit and comfort, and zero down on other factors, you are ready to get your perfect mens formal blazers!