Is there anyone who doesnt want to look nice, smart and fashionable? I am sure if you are here at MensItaly than definitely answer will be no for sure. But if your pocket is pushing back then this article may help you to find a solution how you can buy cheap clothes and make them to look nice and branded. Here are some tips using which you can look fabulous by keeping your budget smaller.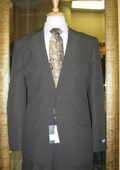 Change is permanent:
Variety must be your main concern if you are looking for cheap and nice clothes as if you have number of clothes then if you repeat them after a cycle they will still remain look like new .for this you must First enlist some classic pieces that you must possess for sure such as a pair of jeans, Khaki pants, White crew neck pullover , V-neck shirt ,Four solid color shirts , Navy blue blazer coat, Black single-breasted suit , Brown and black socks , White athletic socks and off course a nice pair of formal and sports shoes.
Maintenance could be an option:
Maintenance is also a major issue if you have low budget for your wardrobe. Cheap clothes lose their quality easier as compared to branded one. So by using good washing procedure and proper ironing you can give your clothes long life as well as can retain their shine.
Avoid extra cheap:
Dont buy extra cheap clothes in rush hour they may cost you more for some times so be Smart buyer .Purchase clothes after a proper market survey for example buy a tea shirt for which you already have matching bottom wear and other accessories.
Accessories could be a miracle:
You can enhance you look by using a good range of accessories even if you dont have expensive clothes such as a nice scarf ,a pair of matching footwear and a nice watch can give you a royal look.
By doing layering of your old tea shirt with vest jacket and summer jacket you can make your looks to be expensive and funky and can use your material in different outfits.
Invest more on bottom wear as compared to upper wear as five well chosen cheap shirt together with just two pairs of pants will equal ten possible style combinations.
Use tags, stickers and marks to give your cheap clothes to an expensive look. Always keep one thing in mind that your attire reflects personality so never are too cheap when occasion is lifelong.
Learn the importance of treating your attire as your substantial investment. By employing.
Combinations that mix many fabrics and your textures give the impression that you have many more clothes than you actually really do.
Final touch:
You may Keep number short as to have many clothes is confusing because many people only wear about 10 percent of what they own so Mix and match classic separates to obtain the greatest number of possible combinations. So Accessorize wardrobe items to unify clothing and to update simple outfits and adding matching accessories which finishes your look, unify your clothing and can dress up classic pieces.
Related Articles