Home > Articles > The Timeless Navy Blue Blazers
The Timeless Navy Blue Blazers
Navy blue blazers have been a favorite of most sophisticated men as the color portrays a touch of class and dignity. Blazers are very common outfits for most men. As there is a great variety available today, it is natural to have a few of the basic color blazers in your wardrobe. A navy blue blazer is one such accessory that a man must have if he is style conscious and wants to look smart and attractive.
You will get different types of blazers in this color. Designers have presented innovative designs by using various fabrics to stitch the navy blue blazers that are so much in demand nowadays. The pinstripe navy blue blazer is just appropriate for an interview that helps you to portray your personality and confidence.
The plain navy blue blazer is special and can be worn with or without a tie. But you must select the appropriate color shirt and trousers combo to match your blazer. As it is the blue color offers a fresh look, you can team it up with a white dress shirt or any other lighter shades to portray your unique tastes. Khakis, chinos and gray color also go well with the navy blue blazers.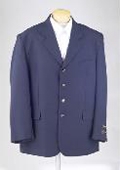 The versatility of the navy blue blazers is that they are packed with flexibility. You can wear them for almost all occasions and the opportunity to wear them with different shades makes them the choicest attire for men. They have a professional look and add a touch of dignity to the various designer navy blue blazers that you get at the stores today.
But do not get carried by the look of the blazers. Get the well-fitted ones to flaunt your style and stature. Wear appropriate accessories to carry off the unique navy blue blazers with style.
If you are planning to add this unique color blazer to your closet, search online for the different cuts and fits that the branded outlets are offering. Select the ones that will portray your personality the best and make you look more attractive and handsome, and then buy your favorite navy blue blazers.