Here we come up with a interesting question which may be asked by you to you sometimes (we think many times). Sometimes you feel that your friend always have a different look at each outings and you are bound to repeat your dress unless you purchase a hefty amount on dressing for that event, you always have problem of looking normal and always dreamt to be offbeat then this article may help you a lot in this manner here are some unbelievable secrets which are revealed by MensItaly experts to transform personality of a common man by its available wardrobe.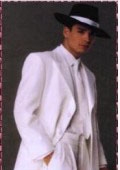 Check Check Check:
Before looking to combine clothes to look nice keep a thorough check of your wardrobe and arrange similar clothes in similar so it will be easier for you to take a quick look on the options that can be use multiple times in different ways such as The classic stripes can be used around forever and have declared themselves as a fashion staple .Stripes distinctly offer the luxury of variation and can be incorporated according to an one's taste, be it the magical horizontal or the flattering vertical.
By investing your money in the unlimited options of summer jackets available, you can do lots of layering using it as you can combine it with tea shirt in winter and like this you can also carry forward your winter trends to your spring/summer wardrobes in absolute chic avatars.
Lets combine:
When you go for layering of clothes then Styles, cuts, designs and particularly the length of clothes play a very significant role Like you can combined white V neck t-shirt with black suit, by combining it with Black pants, you can also club Black turtleneck sweater and Black suit Layering colours, fabrics and yes, material can result in several different outfits. For example, five well-chosen shirts along with a pair of vest together with just two pairs of pants will form many possible style combinations.
While adding Accessories always keep in mind the occasion for which you are intended to dressed up.
We know that adding matching accessories items to an outfit can create many different mix and match opportunities as matching finishes off your looks, style your clothing and can dress up classic pieces that is you can make simple clothing to be exotic by nice choice of belts ,Purses, Shoes ,cufflink scarves etc.
Combine colors for charisma:
Appropriate choice of colors can also make a huge difference for example Classic colors items fit nicely under a jacket as they are light in weight , more refined and very dressy. Khakis can unify clothing and bring an up-to-date look to the simplest clothing. Neutral Colors offer a quick look that remain popular over time.
Choice of proper prints is also very important for layering like small patterns can be wear under overcoats and summer sports coat but larger prints are not very suitable for layering types of fabrics used also of great importance as combinations fabrics should be chosen lesser as they are easily remembered.
Related Articles