Whenever you are choosing a dress shirt, you should surely pay attention to the collar style of it. However, you will be surprised to know that you can select shirt collar style according to your facial cut which in return will help you out to know that what style looks best on you. Your motto should be highlighting your features to bring the best out of you. Moreover, while picking up the right collar style , varieties of factors need to be discussed such as length of your neck, body shape, size and structure, your head size, personal style and dress code that your following. You might wonder that why you should give such importance to a minor detail like collar style. What you need to know is collar style is not a minor aspect and it helps to set your overall look by framing your face, downplaying weakness as well as accentuating best features. Moreover, your collar will always be visible regardless of of whatever tie, jacket or coat you wear.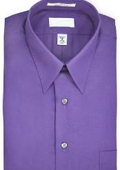 Different Types of Collar Styles
The Button Down Collar – even if button down collar is considered one of the classic styles, it denotes a casual shirt style. The buttons are placed for avoiding the collars to fly whenever you are busy in some activities. Shirts with this type collars are perfect while you team it up with sport coat and sweater.
Spread Collar – Spread collar is one of the basic features of designer shirts. People can wear it either for sporting unique choice or for expressing a sense of harmony in your outfit with a large knotted tie for having larger scale or large neck.
Straight Collar – although straight collar goes well with different kinds of shirts, men prefer to team up the straight collar shirts with suits and ties. This type of collar is ideal for strictly formal, elegant and sophisticated occasions.
The Full Spread Collar –English cutaway collar or full spread collar is one of the most fashionable as well as stylish collar among the available ones. Young generation love to pair full spread collar shirt with slim fit suits and narrow ties.
Right Way to Choose
While you are gathering info to know how to choose a collar style that suits you best, you should remember certain aspects. Men with round face should consider having pointed collar while men with slimmer face should strictly avoid that style. Spread collar style goes well with long and slim faces whereas men with round face should avoid it. You can have the options of pin collar and tab collar style that are not as popular as others for their limited usage.
Therefore, in short, you should always settle for the collar style that complements your face and individual persona.
Related Articles