Leather jackets are universal and versatile in nature that never goes out of fashion and the durability as well as classy look is beyond imagination. Once you invest your hard earned money in buying leather jacket, it will last you for long time even generation after generation making your purchase worthwhile. Therefore, getting a properly fitted leather jacket along with one-time investment quality is essential to be proud of your wardrobe collection. You will be able to find plenty of options available in the market in terms of color, style, design, pattern, cut, length and more while you are searching for suitable leather jacket. Depending upon your convenience, you can even go through the wide range of leather jacket collection of different brands online. Unbelievably, online purchase of leather jacket for men seems always better as it gives you the opportunity save your time and money. Moreover, you have to keep in mind that your chosen leather jacket will not only portray your well-being but it will also help to boost up your persona.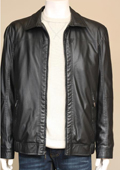 Basic Buyer's Guide
If you are keen to know how to buy leather jacket for men in wise manner, you have to follow certain suggestions right from the search.
First, make your mind and be prepared to spend a good amount of money to get best quality leather jacket. Even if you find out that you are getting leather jacket at cheap, think twice before purchasing as original leather cannot be extremely cheap at any cost. However, if you buy it from online especially during sale, it might cost you less than normal times. However, once you start using the leather jacket, you will get to know that price of it is not unreasonable with so much comfort and long lasting feature.
You can consider collecting some variable leather jacket style, but first time buyers should stick to classic ones including bomber jacket, zip-up jacket, and trench coat, mid length and blazer style. In fact, waist or hip length style is quite popular and goes well with any kind of outfit.
Even if leather jackets come up with large range of colors, black and shades of brown are the most notable ones. You can also get varieties of textures in leather material ranging from buttery soft, thin leathers to sturdy and thicker ones. Some people prefer to wear suede jacket that needs more care and maintenance that leather jackets do.
During purchase, you have to observe the construction of leather jacket minutely to check whether bottom hem is straight and seams are string and perfect. You have to check lining, pockets and collars to ensure if it is safe and comfortable enough for you.
While you are asking how to buy leather jacket for men, you can also have a look at motorcycle jacket with tough leather, vents and kidney panels if you are a biker.
Related Articles