Home > Articles > How To Get Attention Wearing Red Suit
How to get attention wearing red suit
The perceptions of red being too flashy for a suit or red suits being too bold to be worn with confidence have long disappeared with the recent changes in fashion trends. Red is a beautiful color which needs to be embraced by all men, without any regards to his skin tone, personal style and personality. Red suits not only look dashing and unique, they are the rulers of the next era of fashion. They make a bold statement of being cool, stylish and exuberant. You need to buy a red suit immediately, if you already don't have one and you need to bring out your charismatic self by sporting them. Red Suits falls under the category of cold colored suits and it is definitely not a conservative color. Therefore, red suits are occasion and venue specific, and they should never be worn blindly to all the occasions. Some conservative events demand only neutral colored suits, and a red suit will never beappropriate there. For example, a traditional black tie event demands people to go for a conservative black tuxedo only. Similarly, red suits are inappropriate to formal client meets, classy evening parties and other restrictive events. Wear the red suit after judging the occasion and the venue thoroughly.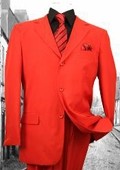 Style Tips To Make Your Red Suit More Appealing
There is a wide range of shades of red ranging to dull crimson to bright tomato red. Find the best color of your choice and buy a suit of that color.

The shirt can be of white, cream colored, white-like hues, pale crimson and other pale colors. The shirt should not be too colorful as that would look very gaudy. Keep the color of the shirt neutral and simple. It should always be subtler than the red color of the suit.

Fit is the mother of all aspects when it comes to rocking a trendy suit! With the right fit, even an inexpensive suit can look similar to an expensive, designer branded suit that is custom made. Nail the fit and save some bucks by going through our collections of red suits that are also easy on your wallet.

You have a very detailed size chart on this website that can help you determine the exact size for your shirt, trouser and jacket. There are guidelines present in the website which tell you how to take your own measurements, compare them with the size chart and conclude your exact size. Nailing the size is as easy as that!

Wear a beautiful tie which has similar shades to that of red or which offers a pleasant contrast like a white, black or a grey. They can be solid colors which blend in with the shirt or they can sport patterns like stripes, checks, plaids and so on. The choices are unlimited!

The bright color of red can be contrasted with subtle black or brown shoes of the types of Oxfords, Derbies, Monk straps or Brogues. These shoes retain the attraction of the red suit while completing the look in a perfect, timeless manner.

A red suit can look even more dashing and hot when you team it with neutral solid colored pocket square like in white, black, grey etc! A pocket square always adds to the appeal and makes you look more classy and dapper.

Go for a good pair of socks of a neutral color to team up with the suit and the shoe. The socks don't necessarily have to be of the same color of the shoe. Any good neutral color will do!

Various other accessories like metallic wristwatches, silver or platinum finger rings, tie accessories, bracelets, hats and many more!