Mostly Tux is worn for weddings and important occasions only, unlike suit which is the main formal wear for many. When you go shopping for your Tux make sure your tux is the perfect fit, leave no room for sloppy shoulders or lengthy sleeves that will make you look out of place.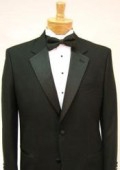 There are many different patterns and styles that you can go for like 2 Button Tuxedos, 3 Button Tux, Notch Lapels, Peak Lapels, Shawl Lapels and many more. But remember Tuxedos are evening wear only, having said that if your friends or family have requested you to be dressed in a tux for his morning wedding then you cannot deny their request right.
It's easy to figure out that Tux carries a lot of elegance and the tuxedo etiquette can be a little intimidating, so make sure that you have the neatly shaved and clean look to carry yourself for any occasion, with a little practice and planning to detail your tuxedo look will be a success.
Two/Three Button Tuxedos: When wearing a two or three button Tuxedo jacket, you should always leave the bottom button undone. A single breasted jacket look traditional, but men who are taller may look for double-breasted jacket to accentuate their height. Black Tux, White shirt, Black bow tie is a must to look the perfect gentleman, during some point in the evening you will surely toss the jacket aside so make sure you are wearing a slim-fit shirt that is comfortable.
Notch Lapels vs. Peak Lapels: These Tux are just a stand out and brings in a lot of attention your way if perfectly stitched and worn in the right way, The Notch lapels Is a standard in men's traditional suiting and the notch lapel is categorized by a notch where the jacket collar meets the lapel at a 75-90 deg angle. This is the most versatile of all the styles in suits. You can easily wear it to work, interview and just about anywhere you like. You can even adjust the size of the notch. A peaked Lapel is defined by the lapel edges pointing up and towards the shoulders, traditionally these are teamed with formal morning coats or tail coat. A peaked Lapel tux is restricted to executive offices and formal events only; you can't really dress down on a peaked lapel tuxedo.
Shawl Collar or Shawl Lapel Tuxedo : The shape of this lapel is rounded and does not have any notches or points.Instead, the shawl collar wraps over the shoulders and continues down the front, curving to the coat's first button enclosure. A Velvet Shawl Lapel adds sophistication to a standard tuxedo. It all needs to be slim fit, besom pockets and single button to give you the edge, finish your look with a flat front and a standard stripe down the leg.
The traditional aesthetic of men's formal fashion is as worthy celebration today as it was a century ago, ofcourse the styles keep changing with the weaving and contemporary sensibilities into the sophistication of the standard tuxedo. So embrace yourself in a tux which is both the history and the future of men's formal wear, which is highly fancy and contemporary for all formal occasions.
Related Articles