In earlier ages, people used to believe that if you have same color shirts and ties, you are ready to get dressed. However, the times and tastes of people have changed and so the fashion world. Nowadays, shirt and tie combo does not only depends on colors and aspects like design, pattern, style, texture of material all play significant role in deciding the perfect shirt and tie combination. Even if the entire episode seems challenging, it might not be that hard once you start figuring out the tricks to pull it off. Before learning about how to match your shirt and ties, you have to find out the nature and purpose of occasion that you have to attend once in a while. As a man, you should possess better game plan to accentuate your bold image and charismatic personality through exceptional shirt and tie combination along with other necessary clothing item, accessories and footwear.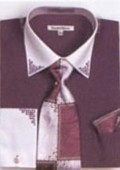 The Art of Mixing and Matching
Necktie detailing- you have to choose the length and width of necktie keeping your physical structure and personal style in mind. As you can imagine, small or lean built men should wear slim fitted shirt with skinny or narrow looking necktie whereas men with large built shirt with large front wider than average tie that might reach the edge of belt buckle. Sometimes confusion arises for average built men who can pull the most of the combinations.
Interesting Trick – You might have heard about dollar bill trick while searching for some perfect shirt and tie combo. The rule of thumb for first timers is to start with basic or classic solid colors and later on you can start pairing the larger motifs with smaller ones.
Solid Combination – since ages, men have mastered the art of pairing their solid shirts with solid colored ties. While you might prefer to team up light colored shirt for men with dark color ties, you can even try the opposite possible option too. In recent times, men are even curious about analogous color combination. Even if it might not create sharp contrast, a certain level of sartorial sophistication prevails through this style.
Pattern on Solid and Solid on Pattern – acquiring skills in combining solid on pattern and pattern on solid is not as easy as it seems. However, the trick is simple and you just have to find out the dominant color in your shirt and choose tie according to it.
Patterned Combo – It is one of the toughest ways to mix and match patterned shirt and patterned tie that make you feel like you are stepping to an unknown zone. However, practice makes people perfect anyway.
Along with shirt and tie combination, knowing proper knot style is vital while wearing any dress shirts with specified collar.
Related Articles