Home > Articles > Zoot suits - The most stylish attire for men
Zoot suits - The most stylish attire for men
Zoot suits were men's favorite fashion attire in America, Italy, and Philippines during the 1940s. It represented an appearance of male macho in the east side of Los Angeles and Watts. Of the Mexican-American Zoot-suit user, some were group people also recognized as "pachucos." It's been chiefly today's Mexican-American low rider car culture, which has actually helped revive the suit to state the fashion trend. It was the rebellious fashion of young men during 1930s and 1940s. The oversized attire was an extravagant personal style and a declaration of freedom and auto-determination. Many people still consider it as a "rebellious garment of the era". It is described as a "killer coat with a drape shape, reet pleats and shoulders padded like a lunatic's cell." The suits ever since have always made a deep impact on men's fashion world. They are elegant, sexy, bold, and stylish that gives you a rugged yet manly looks which most men desire. Style, designs, patterns etc everything might have undergone revolutionary changes thanks to fashion industry's innovative and creative ideas, but the zoot still remains to be classy and something you ought to have in terms of variety in your wardrobe.
Zoot Suits come with high-waist, wide-legged, tight-cuffed pegged trousers and a long coat with wide lapels and wide padded shoulders. It was always worn with a long keychain that looped almost to the ankle. Zoot suit consists of a jacket that is quite long with wide lapels and padded shoulders. Pants are typically worn high at the waist. The pants are cut very widely and pleated as well in terms of design around the leg area. It is also worn along with a vest. People who wore these outfits typically had long gold chain hanging down from the pocket to the vest button. This gold chain is attached to a pocket watch which is usually kept at the vest pocket depicting a unique and distinguishing style that was quite predominant. Back then, the best part about wearing these suits is the fedora hats which people worn as a unique style statement. This particular hat also had a feather attached to it on the side brim of the hat that protruded towards the back of the hat and downwards.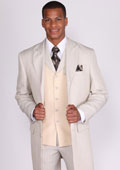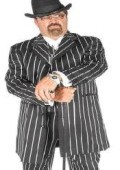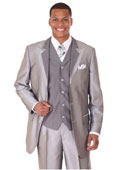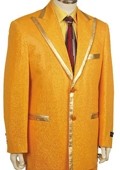 How To Buy Zoot Suits
These suits are worn during special occasions like costume parties and other dressy events. Therefore, if you plan to wear it to work, go for a normal dark colored one. If you are buying it for an interview then let it not be too pricey one. So first decide for what occasion it needs to be bought.
Next step is to determine on your size. The most vital aspect it is its fit and not many people really appreciate how it needs to fit or, more particularly, how you desire yours suit to fit. There is a detailed size chart in our website that will help you determine your exact size based on your measurements.
Once you are done with your size then move to the style and the color. Pick a style that goes on par with your personality and taste. The style you pick must suit your looks, physique and the occasion that you plan to wear it to. High-quality Zoot suits can be found at mensitaly.com, so do not forget to check them out!
They are available in a variety of models and colors in our website. The sizes available are 36-52, regular and long. They are available in different styles fashionable colors like gray, red, brown, yellow, purple, and white and pink. Some of the popular Zoot suits are: Zoot Tux, Sand Zoot suits, Black and White Pinstripes, Joker Purple suits, Blue Sharkskin suits, Platinum Sharkskin suits, Zebra Zoot suits, Black with Red Pinstripes, Tiger suits, Black with Gold Gangster Pinstripes, Sapphire Blue suits, Red Multi Suits and so on.