Home > Articles > Zoot Suits - An Enigmatic Fashion
Zoot Suits - An Enigmatic Fashion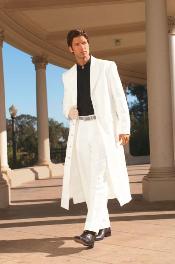 Suits are really attractive irrespective of what style you are wearing. They make you look confident, manly and elegant. They are the best a man can wear to make himself look dapper and graceful. There are many styles, ways and a variety of techniques that you can follow to make your mark as a trendsetter and a fashion icon. Each kind of suit is meant to be worn in a specific way that makes it look the best that it can look. When you wear them in the way they are meant to be worn, you increase your appeal multifold and you make them look a lot more elegant than they already are. The key is to wear the right kinds of suits of the right fit to the right occasions with the right accessories.
Zoot suits are one of the most unique varieties of suits that border on being trendy and classic. They were in fact very popular during the 1940s and in the recent times, you can find a wide range of modified versions of these suits in the market. They were widely preferred during the decades of 1930's and 1940's by especially Hispanics, Africans, Italians and Filipino Americans. They have a wide legged, high waist, tight cuffed pegged trouser pants along with a long coat with wide padded shoulders and wide lapels. They come in a wide range of different models, colors and sizes. They are definitely unique as they are very different from the regular suits and they are sure to make some heads turn! You can buy a pair of Zoot suit and express your uniqueness in a bold way which not many dare to!
Owning a pair of Zoot suit should be your way of conveying that you are one of a kind, and that you don't follow the crowd but you tend to do things differently. They would be brought back into fashion if you mark yourself as a trendsetter and dare to sport timeless outfits like Zoot suits. There is a wide range of collections of Zoot suits at Mensitaly.com. You can browse through the site to find the best suit that appeal to your taste.
There are certain steps to be followed to take care of your Zoot suits. Use fine quality clothes brushes, coat hangers, steam iron and clothes steamer to clean them regularly. Before you hang your suit in the wardrobe, empty out everything from your pockets in case you have carried anything along with you. This would ensure that the pockets don't get strained and the fabric remains as good as new. Using of good quality clothes brush is highly important to keep your attires clean. Before hanging it in the wardrobe, hang it outside where there is a fresh air circulation for at least 24 hours. For removal of wrinkles after washing them, use a good steamer for ironing them. Don't over- heat it, as it damages the wool and spoils your suit. When it comes to cleaning them, always opt for dry cleaning and give it to a professional dry cleaner which can make it look very professional. So get shopping for your favorite Zoot suit and rock the classic in your own unique way!