Home > Articles > Yellow Zuit Suits
Yellow Zuit Suits
Zoot suits are one of the most unique varieties of suits that border on being trendy and classic. They were in fact very popular during the 1940s and in the recent times, you can find a wide range of modified versions of these suits in the market. They were widely preferred during the decades of 1930's and 1940's by especially Hispanics, Africans, Italians and Filipino Americans. They have a wide legged, high waist, tight cuffed pegged trouser pants along with a long coat with wide padded shoulders and wide lapels. They are definitely unique as they are very different from the regular suits and they are sure to make some heads turn! You can buy a pair of Zoot suit and express your uniqueness in a bold way which not many dare to!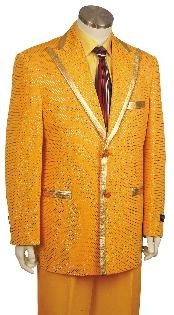 The color yellow goes well with a person who is cheerful, radiant, idealistic, and jovial. They are usually worn for special occasions - such as a dance or a birthday party. The amount of material and tailoring required in making them have made them to be tagged as luxury items. The oversized suit creates an extravagant personal style and a declaration of freedom and individuality. The color yellow represents happiness and goes in well with happy occasions like parties, fun get togethers and so on. This makes the yellow Zoot suits unique pieces of clothing which can be worn by everybody with the right charm and confidence. Owning a pair of Zoot suit should be your way of conveying that you are one of a kind, and that you don't follow the crowd but you tend to do things differently. They would be brought back into fashion if you mark yourself as a trendsetter and dare to sport timeless outfits like Zoot suits. There is a wide range of collections of Zoot suits at Mensitaly.com. You can browse through the site to find the best suit that appeal to your taste.
A Accessorize your yellow Zoot suit subtly as the color yellow carries enough flashiness for the entire ensemble. Wear shoes of darker shades like black or brown and don't opt for primary colors. Go for accessories like pocket squares, ties, tie tacks, tie bars or wristwatches. Let them blend in with the look delicately and not make them stand out on their own. Yellow colored suits can be worn with white or a pale shirt as they would complement the color yellow. Belts work well and jewelry are good to be worn as long as they are gentle.