Home > Articles > Velvet Blazers Are Tagged as Essentials
Velvet Blazers Are Tagged as Essentials
Velvet blazers have become very common in the recent changing trends of fashion. They are worn to show out a dash of kinkiness along with sophistication and majesty by the wearer. Indeed, velvet blazers are so unique that they are bound to turn people's heads wherever and whenever you sport them. The smooth texture and the complexity of color tone of the velvet fabric make it look extravagant. Blazers made of velvet have a gorgeous and a shimmering look and are the epitome of grandeur, the kind of grandeur which does not follow the regular fashion rules and breaks barriers to establish its uniqueness.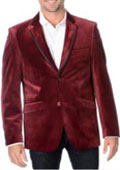 There are a series of steps required for manufacturing blazers of velvet. Some manufacturing units use hands and some machines to make various kinds of blazers. Velvet is used for the blazers because it carries a bold style statement combined with confidence. Velvet blazers are never out of style, as they are classy as well trendy. These are available in a wide range of colors from delicate to spectacular, and it goes according to individual preferences of style. The use of velvet in blazers gives a refined bold look. Blazers made of velvet go with most occasions like casual, office, smart and dressy. These blazers can be worn by all men irrespective of their skin tone or physical stature. These velvet blazers tend to be very long lasting. The velvet is so amazing that mismatches in colors of the shirts and pants are overlooked as the blazer alone steals the focus.
Proper care of the blazers of velvet makes them last for years. The jacket should be cleaned when necessary. High quality dry cleaner should be used to clean because bad dry cleaning can damage the fabric. If there are any stains on it, the stained area should be properly dry-cleaned. Stains should not be cleaned with cloth and water, as it leaves spots. Ironing should these blazers should also be avoided.
Fit is an essential aspect that must never be overlooked. An ill-fitting blazer can look extremely sloppy and can ruin the entire outfit. Therefore, make sure that the blazer that you are buying is of the perfect fit. There is a very detailed size chart on this website that can help you determine the exact size for your shirt, trouser and jacket. There are guidelines present in the website which tell you how to take your own measurements, compare them with the size chart and conclude your exact size. The blazer should have a point-to-point shoulder measurement and should fit well. The length of the blazer should be around below your waistline as it should cover your hips completely. Smaller and softer shoulder pads add to a decent fit. The sleeves should be long enough to cover your wrist.
Blazers made of velvet can be purchased from www.Mensitaly.com in an easy manner. There are numerous styles and colors of velvet blazers available in our website that is sure to satisfy your needs. Browse through our website and pick your favorite ones and get shopping.