Home > Articles > The Uncompromised Quality Lucci Suits On Sale
The Uncompromised Quality Lucci Suits On Sale
Lucci suits are the great option for men to flaunt style in a chic and elegant manner. Many kinds of suit varieties have been largely introduced to market and each has its own fashion details and patterns. As suits turned to be the must worn attire for social occasions, its significance has been tremendously raised in a shorter span. Lucci suit is one of the classic and trendy collections of men wardrobe where its richness is highly determined by its fabric, design, fit and the make. Many branded companies launch new designer varieties of Lucci suits at reasonable prices.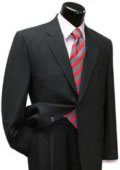 The specialty of the suit is that it comes in wide range of designer options such as fancy stripe pattern, flat front pants design, fancy trim suits, flexible waistband suits, mini check pattern, narrow pin stripe patter, notch lapel designed suits, peak lapel designed suits, pin stripe design suits, pleated pants design, shark skin pattern, shawl lapel designed suits, shiny solid suits, single pleated pants, tone on tone stripe, window pane suits pattern, banker stripe and glen plaid pattern.
Vinci, Lucci, Pallini, Fortini, Elagante gentiluomo are the recent trend suit ranges which are considered as the most luxurious one. Lucci has been on top of the sale list due to the fine fabric selection, in-house tailoring method, sophisticated make, clean sewn ends and lots more fashion details. Suits posing the Lapel types of Peak and shawl collar are perfect for formal occasions. The attire goes perfect for open air social gatherings, formal meetings, business, daily work, processions, etc. If you want to flaunt style in a casual look then opt for bold colored double breasted suits that come with peak lapel made of satin. These kind of casual collections are meant suitable for evening parties, fetes, dating and wedding celebrations.
Lucci Suits
The Lucci suit is tailored in such a manner that it gives a sharp and slim look on the wearer. It is achieved by positing the shoulder pad right on the position and having the sleeve line projecting straight to the rest of the body length. This kind of make gives the perfect comfort. Some men feel their arms fall in different positions on wearing certain types of suit jacket this is mainly because of the altered sleeve pitch. But, once you pick Lucci suits as your choice, you are completely free from those tailoring hassles as the fine tubular sleeves give men right fit and soothe. The type of sleeve has a slight inward curve around the elbow following the right line of the arm.
The fabric that is highly used for bringing the end product is wool. You can also find Lucci collections that are made of other fabric blends such as polyester, cotton, silk, poplin and rayon but, wool being the predominant one. The fine quality super 120, 130, 150, merino and cashmere virgin wool grades are used which makes the Lucci collection still more expensive. The quality of the wool is generally determined by the spin range where 90-200 spin rate is been considered to give the most superior quality suits.
Some of the latest collections of Lucci suits are 3 Button Mens Lucci Solid Color Suit, Super 120'S G-Gray Solid Color Suit, Men's 3 Button Style Jet Black Pinstripe, Mens Khaki Double Breasted Dress Suit, Mens Bronze Single Breasted Dress Suit, Black Men's Single Breasted Dress 2or3or4 Button Suit, Men's Olive Green Suit Poly Blend Single Breasted Suit, Chocolate Brown Single Breasted Dress 2 or 3or 4 Button Lucci Suit.
The Lucci suits give men a stunning and masculine look. You could find all the modern designing patterns and fine fit that suits all kind of men irrespective their physique tall or short, big or slim. The quality is uncompromised in these kinds of suits. If you look to buy a supreme quality suit with a classy touch then Lucci suit is the best choice to opt. Check out the new arrivals of Lucci suits online at mensitaly.com that are available in different range of sizes and colors. Get attractive discounts on each collection!