Home > Articles > Mens Wedding Suit - Types of Wedding Suits
Mens Wedding Suit - Types of Wedding Suits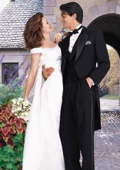 Usually when we think of men's wedding attire, traditional tuxedos is the thing that comes to our mind. Just like women, men also have choices when it comes to wedding suits. Though men do not have as many choices as women, there are choices available nevertheless. Wedding outfit for men varies from laid back and casual to black-tie formal.
Formal:
Men's formalwear should be 3 pieces and consist of a tuxedo jacket and pants, along with a cummerbund or vest. The tuxedo jacket can be either single breasted, double breasted or three buttons, based on groom's preference. Both bowties and neckties are acceptable. Match colors to the bridal party, or base them on time of day. For daytime weddings, lighter colored suits and accessories work well, whereas the darker suits are appropriate for evenings. Pair a three-piece suit with a pair of shiny patent dress shoes.
Semi-Formal:
Men's semi-formal wedding attire is a scaled-down suit. The bridegroom would be dressed in a jacket and pants, preferably with a tie. Tuck shirts in, and opt for a cotton-dress material. Go for a tailored suit, not a relaxed one. For daytime, Lighter shades are suitable but avoid them for evening weddings. Men should match up the mens suits with a loafer or dress shoe.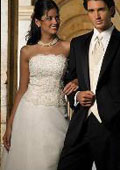 Beach Casual:
Beach casual wedding attire for men is apt for a beach, backyard or any other sort of outdoor wedding. Men's wedding apparel for beach casual would include a loose-fitting shirt made of cotton or linen and a pair of cotton or linen slacks. The bridegroom can wear the shirt either tucked in or out of the waistband of the slack. A light sport jacket can also give a beach casual wedding outfit more of a suit feel. Groom can either go barefooted or pair the outfit with sandals or slip-on shoes. The color palate often consists of natural shades of brown, green and blue.
Browse through the collections of wedding suits available at MensITALY.