Home > Articles > The Trendy Royal Blue Tuxedo Collections for Men
The Trendy Royal Blue Tuxedo Collections for Men
No doubt, Men who love to flaunt attractive and dashing will surely opt for bold colors. The bright colors naturally give a dynamic look where the royal blue being the most predominant one. Many still believe only the light hue go best for formal events and the bold colors are bit a feminine one. The statement is quite out of fashion as the current fashion trend highly sticks to vibrant bold colors. Many women often prefer a royal blue attire for parties as it gives an additional embellishment to their beauty. Then why the color is not right for men?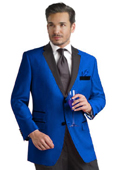 The royal blue symbolizes courage, daring and simply cool where all these attributes suit perfect for a masculine men. Yes, the color fits much suitable for men and if you want to be the centre of attraction a bit of one man show then this the right collection what you need to choose. The royal blue tuxedo goes perfect for wedding, prom, parties, religious event, procession, dating, work, business, meetings and all kinds of formal and casual occasions. Remember, there is no bound for this royal blue tux to be worn for any juncture.
The royal blue tux collection include 1 button tuxedo, 2 button tuxedo, 3 button tuxedo, 3 piece vested tuxedo, tail coat tuxedo, No button tuxedo, banded tuxedo, single breasted and double breasted tuxedo and a lot more. The complete package includes tuxedo jacket, pants, trousers, formal shirt, vests, classic tie, cufflinks & studs and a cummerbund set.
Some find difficult in pairing tuxedos with right apparels and accessories. Before making out your choice it is indeed important that you know about the regular and accepted paring choices available for tux. Even though, the attire has been split as a formal and casual wear, it is been still seen in a more formal look and so you need to wear it in the most recommended way.
Some of the vest types and available pairing accessories for a royal blue tux:
Vest styles - Essex, Imperial, Legacy, vertigo.
The pairing tuxedo accessories - Suspenders, hats, cane, formal scarves, pocket squares, collar extenders, leather belts, tie bars, tie tacks, tie chains and button covers.
Fabric Used
The royal blue tux are made from the variety of quality fabrics where wool, satin, silk, velvet, polyester and rayon being the most predominant one. Generally satin are used for the lapels in a giving a bit smooth look that compliments the color. Polyester or acetate used for linings. The right shape decides the overall excellence of the attire, to retain that shape stiffeners is been used in shoulders, collar and lapel. They are coarsely woven fabric which can be felt underneath the collar.
Quality Preference:
While buying royal blue tux, opt for the one that is made of wool than polyester or any other fabric because the fabric jells with the color in preventing it to be too glossy which is not highly preferred for bold colors. On the other hand, the wool made tuxedos are durable and affordable. The fabric is made of approximately 60 threads per square inch where Super 80, Super 100, Super 110 and Super 120 are used for finest tuxedos.
Latest Royal Blue Tuxedo Collections:
2015/Newest Slim Fit Royal Blue Groom Tuxedos, High Quality Italian Men Suit Royal Blue Tuxedo, 2015 New Men's Formal Slim Fit Wedding Tuxedo Bridegroom Business Dress Blazer Jacket +Pants Customized Size S-6XL, CHEAP royal blue Groom Tuxedos, Custom Slim Fit Two Button Royal Blue Groom Tuxedos, One Button Slim Fit Royal Blue Groom tuxedo, Custom made 2015 Royal Blue Tuxedos for modern men.
The royal blue tuxedos are the latest craze among modern men. It highlights your look and brings the best in you. No matter where you stay, what type of climate you are in, this bold color tux has no bounds to flaunt your style. To shop the latest collections of royal blue tux that are of great quality with perfect cut, make, fit and brand make your deal with mensitaly. We promise to deliver right products to the right person.