Home > Articles > All about Men's Tailcoats
All about Men's Tailcoats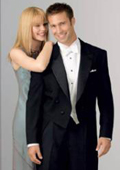 A tailcoat is a coat with the front of the skirt cut away, so as to leave only the rear section of the skirt, known as the tails. The historical reason coats were cut this way was to make it easier for the wearer to ride a horse, but over the years tailcoats of varying types have evolved into forms of formal dress for both day and evening wear. Although there are several different types of tailcoat, the term tailcoat is popularly taken to be synonymous with the type of dress coat still worn today in the evening with white tie.
There are several styles in tailcoat dinner jacket. Tailcoats come in either double breasted or single breasted fashion. The single breasted tailcoat dinner jacket is available in two, three and four button styles. Fashion suits have tailcoats in a variety of lengths and cuts. These are great for a party or other social event. Browse our inventory of tailcoats to find the perfect fit for your event, whether business, casual or formal.
You should consider several factors while choosing a tailcoat. One is the occasion or event where the jacket will be worn. Certain business and formal events require more classic or conservative styles and a fashion suit or zoot suit would not be appropriate. The other important factors to consider are the style that best suits your body type and personality.
You will love both the quality and the price of our tailcoat. We have designed our tailcoat to offer both style and exceptional comfort. We use fabrics and construction methods for our tailcoats that are comparable to many of today's most popular designers. We use the finest fabrics and quality European craftsmanship in all our tailcoats to ensure this quality.
At MensItaly, we offer exceptional quality tailcoat designs at amazing prices. Our mission is to provide high quality mens suits at reasonable prices. Our prices are lower than you will find through any other online retailer selling the same merchandise. We back up this claim with our guarantee that we will beat the lower price, if you happen to find one.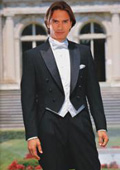 Tailcoat remains a popular choice for everyone from celebrities to the average man. The style has been seen in many movies, including James Bond, Austin Powers and Harry Potter movies.
At MensItaly, we carry tailcoat in several styles. You will find the materials and craftsmanship of our jackets to be comparable with higher priced designer styles. We use the best materials and superior European craftsmanship in tailcoat we sell. We guarantee you will be satisfied with the quality of our products.
You don't have to pay high price for the high quality of our tailcoat. Our mission is to provide top quality men's fashions at reasonable prices. In fact, our price is lower than you will find elsewhere. We will beat any lower price you find for the same jackets sold on our site. You can shop with confidence knowing that your private and credit card information is protected with Secure Socket Layering (SSL) Technology for the best security.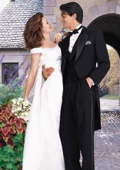 A smart tailcoat can help you update your look in simplest way. White is actually a good start as it remains the dominant shade in men suit industry. It's a flexible base tone which means you would have plenty of options for trouser matching. When it comes to tailcoat you can find it with more designer options such as front buttons, jewel neckline and padded shoulders. Long sleeves with pleated pants can just be right for anybody. Men's suit with intelligent tailoring is the key factor in menswear this season. These rules serve as a direct to what would enhance jacket features, but they are only a channel.
When logically taken, suit jacket usually comes with a pair of matching pants; however some jackets are independent wear. For confirming the evidence, just look at the tailcoat worn by "the joker" which was an independent wear. He worn the suit jacket with odd trousers all through the movie and that costume is widely admired today. Lots of youthful, chic actors and fashion designers errand wearing a slim, dark men suit jacket with a neat pair of jean. More informal suit jackets, such as corduroys or tweeds, are superior examples. MensItaly.com can offer you designer tailcoat and more that can just be required for your wardrobe.