Home > Articles > What kind of Man's Suit Are Suitable for Suit Hire?
What kind of Man's Suit Are Suitable for Suit Hire?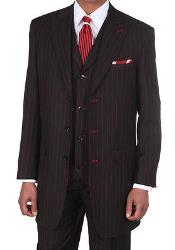 Weddings, social gatherings, evening parties and dinner meets invariable crop up and attending them becomes inescapable. Instead of investing huge money in buying different types of suits, it is prudent to hire them. Further by hiring, you can wear the latest designs and impress guests around.
The common formal attire most widely worn is referred to as a morning suit. Although for long this was considered fit only for daytime wear, it now has become acceptable for evening weddings as well. It gives the wearer in a social gathering a trendy that makes heads turn. Traditionally it comprises of either a black or grey coat with matching grey and black striped trousers and if the weather is pleasant, a pearl grey or light grey waistcoat.
As most of us are aware, tuxedo is the general name often used to refer to all men's evening wear. It is of a standard length jacket, single or double breasted with satin lapels. There are special dinner clothing often referred to a 'dinner jacket' and can have either a notched or peak lapel or shawl collar.
To help you to hire different types of suits, the suppliers or hirers will spend time with you and discuss various styles and looking through the various designs available. Once you have decided which outfit and accessories you require, they will make arrangements for you to have a fitting.
Once you are measured, the hirers will confirm your order. If you need to change the style of the outfit, it can still be done before the suit is delivered. The delivery time is approximately 10 - 12 days before the function. This generous lead time is to try and make sure everything fits. The fact is some people change size and shape between the first fitting and the time the suits arrive particularly growing children. So if any suit does need replacement, the hirers will arrange for this at no extra cost.
Please know that all hired suits are fully insured and thus making you comfortable that if anything is spilt or accidentally get damaged, then you will be fully covered especially with children's outfit. All hired attires should be returned within a couple of days, as agreed. Extended hire will be allowed at an additional 50% cost of the normal tariff.