Home > Articles > Significant Spectator Shoes for an Appealing Look
Significant Spectator Shoes for an Appealing Look
There are different types of shoes which one can opt for. Shoes are mainly used for protecting our foot from foreign particles like dust, germs, pollutions, mud and so on. They are mainly categorized under two segments. One is casual collections like sandals, snickers and other one is formal footwear which includes formal footwear, men's dress shoe, wingtip models and also spectator shoes. All the formal collections are available in the market for ages now and the beauty of the shoes is quite traditional and appealing. The spectator shoe can be defined mainly as a low heeled, semi brogue, oxford or also full brogue footwear which is constructed with the help of two colored raw materials which are contrasting in nature.
The shoes have their heels and toe covered with caps and also the main body is covered up with lace panels which are mainly darker in shades. These models become the front cover of the styling statement in the 19th century and the popularity reached its ultimate height during 1920s and 1930s era. The main color combinations of these shoes are a white body or base with brown or black tan toe along with heel caps. Even though this is the basic color combination but nowadays people love to experiment with new styles and color combinations. Therefore, there are various kinds of colors which one can see in these shoes.
This shoe is mainly made out of quality raw materials and the main one is leather. Even though leather is the main component, but it can also be manufactured using a canvas, suede or even mesh body. There is a significant difference between the spectator footwear and the saddle collection.
Saddle can be defined as another two tones oxford shoe which comprises of plain toe and also have mid foot which is nicely decorated with various dotted designs. According to the historical notifications, it was John Lobb who is a famous English footwear maker who first claims to have invented such spectator model. It was previously known as the cricket shoe and the date was in 1868. Previously, these footwear collections were made out of leather from willow calf or the calf suede which was white in color. Sometimes, the base or the white portion was made out of mesh material which gives rise to better ventilation option during hot and sultry weather condition.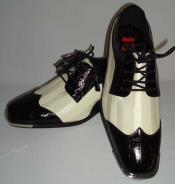 Spectator footwear is a great choice for those who want to portray a classy yet beautiful look. This is a sure head turner in parties and also while attending any formal official meetings. The traditional look gets mingled with the modern touches, giving out an important yet cultural stylish statement. It is hard to get quality spectator shoes without burning a hole in the pocket. Therefore, it is always advisable to go for the important and reliable online stores which have a huge round of collections of such classy footwear along with some great discount ranges. Thus, people from different economical background can now opt for the quality make at affordable ranges.