Home > Articles > Get The Best Slim Suits For Men At Affordable Rates
Get The Best Slim Suits For Men At Affordable Rates
Slim fit suits are the latest fads and they are considered to be extremely modern and trendy. Owning a slim fit suit is very easy since all you have to do is to browse our website and find a suit that fits your taste and go for it! As the name suggests, slim-fit suits wrap around your body with ease and ensure a snug tight fit. They have no bagginess or excess amount of fabric and fit tightly around your body. A popular belief is that the slim-fit style is only flattering on men with a slim build as it allows him to flaunt his perfect body. But in reality, the slim fit style can give anyone a modern and trimmed-down silhouette despite their different body shapes. Therefore, men with heavier bodies can also go for this style with confidence! Remember that you should be at complete ease while you are standing, sitting, walking or moving around wearing your suit. Therefore make use of the detailed measurement chart present in our website which will determine your exact size accurately. Slim-fit suits look the best when they fit perfectly, and aren't too bulky or too tight. Browse our website to find out a slim-fit suit of your choice and place your order.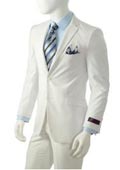 Main Characteristics Of Slim Fit Suits
Trousers: Slim-fit suits feature trouser pants which have a tapered waist, slim and tapered legs. They have a lower rise than traditional suit pants and are of slightly shorter length. They always have flat-front design, rather than the traditional pleated-front style, to maintain an overall slim look underneath the jacket.

Jackets:The jackets have a narrower point-to-point shoulder measurement than the regular suit jackets. They almost always sport a narrower lapel with a higher notch. This works well with a lower button stance to lengthen the look of the body. These jackets also have a shorter suit length than regular jackets. Smaller and softer shoulder pads also characterize the slim-fit. Most slim suits will have single-breasted coats with two buttons rather than three, which is often the standard for regular suits.

Shirts:Pair your slim-fit suit with a shirt in a bright color or pattern to give it a little edge. Solid color shirts work well and you have a lot of choices for shirts, depending on the color of the suit.

Ties:Team up your slim-fit suit with a skinny tie instead of a regular tie, as it can appear too bulky or wide for that suit. Skinny ties come in all colors and patterns as of regular ties and there is a wide range of choices to go for.