Home > Articles > Shiny Suits
Shiny Suits
An interesting stitching called pic or pick stitching has been used on suits. Pick stitching is the outer threading, outlining certain areas on suits or slacks. Some outfits have pick stitching on the vertical seam in the back. It is a visible thread stitching of the same color on the outside. It may be a white threading if it is on the inside where the lining meets. Pick stitching offers a hand finished tailored look but is usually made by a machine.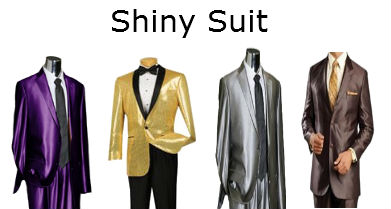 Whether it is a shiny charcoal suit with hand stitched or machine stitched lapels, the more stitching on lapels give a better look. Do all tailored fits have noticeable stitched lapels? But a visible pick stitch can help the lapel maintain a crisp edge with a good finish. Pick stitching is a big plus for some outfits.
3 Button Charcoal Geneve Men collections, Super 150 wool pick stitch models are some of the beautifully hand tailored varieties available in many colors. Discount Mens Pick Stitch 3 Button Shiny Suits are dynamically designed and sophisticatedly stitched with professional tailors. Coppley 2 Button Center Vent Suit is with pick stitching on the lapel, and is designed well.
Giorgio Valentini collections are three button pick stitch type. Giorgio Valentini has fast established an international reputation as one of the premier manufacturers of top-quality fashion apparels for men. They use only the finest worsted wools from Italy and employ expert European-trained tailors to produce clothing that provides the ultimate in masculine elegance and ease of wear.
The cutting and sewing of cloth developed between 12th Century to 14th Century. That was the first time the term "Tailor" came into being. Prior to this period, clothes hung loosely to their body. Later the loose robe was stitched to show the contours of the body. More importance was given on tailoring.
Louis XIV started encouraging the coats, vests, and breeches. The modernized form of this is the dress shiny suit, which is worn nowadays. In the late 1660s, for the first time straight-cut vest fitting the figure made its appearance. Soon it became common with people to wear vest or waistcoats which are also available in 3 Button, Italian shiny suits.
With time, the old form of heavy decorative attire became simpler. There was restrain in the dressing of men. The English tailors dominated the male fashion scene. Woolen fabric was the most preferred fabric by the tailors to make the shiny suits. Their expertise in using well fitting woolen shiny collections became fashionable. The shiny suits were simple and perfectly cut.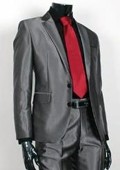 History of Woolen Fabrics Shiny Suits:
This use of wool began in central Asia about 10,000 years ago. Wool is durable, versatile, elastic, and very flexible. The wool is obtained from variety of breeds of sheep from locations with different climatic conditions. The wool is obtained by removing wool from the sheep. This process is called sheep shearing. The raw wool is made to refined products like Tweed and worsted by canvas work, knitting, spinning, and weaving.
The Durability of Woolen Fabrics Shiny Suits:
When compared to fabrics like cotton, silk, and rayon, the woolen fabric is more durable. This makes it a perfect fabric to make coats, jackets, shirts, and overcoats. MensItaly.com offers range of men's shiny apparel collections such as men's dress shiny suits, men's business shiny suits, double breasted men's shiny collections for sale also in discount and rental men's shiny suits available in woolen fabric from Los Angeles, USA specify as follows :-
The shiny suits are smooth and lightweight. As per the scientific records, it has been proved that the people who finds difficult to identify others will make through their mind with regards to opponent skin color, sex, appearance, speech, way of dressing and behavior. Men use to make some sort of mistake while wearing this attire. Given below are few tips to avoid those mistakes:-
Try to avoid short sleeve with a tie. Generally, short sleeve shirts are considered to be low class wear.

The other important factor to be considered is the shoes. Men should wear shoes cleanly, proper condition, shine look, repaired and it should be shiny and appropriate for the occasion of the day. People are suggested to prefer lace up shoes, so that men have enhancing look of formal, sophistication, royal and trendy.

The trousers should be tailored long as it covers the socks properly. Generally, trousers should cover the socks and socks should cover the shins. The socks and shoes should match with your shiny coat. Pants will be long enough when slight break is applied in the front. Pleats and cuffs are the vital requirements in trousers and while tailoring it should be considered.

Avoid wearing belt and braces together. The belts should match the shoes and try to avoid mismatching costumes with men's shiny jackets.

The tie is the other important factor to be taken into account. Make sure that tie chosen matches your jacket and also it reaches till your belt line. The tie should not be too long or too short. It should be correct enough to add impressive look. The ties should be knotted properly and it should be known that proper knotted ties should have dimple.

The sports jacket should match the occasion chosen to wear. The buttons cuts, fits should be designed properly and it should emphasis the tradition consequently as per trend and culture. Single breasted types come in one or two or three or more button styles. The two and three button jackets looks classic and more buttons look more fashion and trendy. The shiny suit for men is available in more styles, colors, designs and cuts. As per business occasion, get together events and any other special events, these apparels are specially designed and produced. High quality fabrics are used to make men feel cool, good and smooth all over the day. Double breasted model looks more formal in style and it comes in four to six buttons. Most of the men prefer double breasted type for parties or business events to enhance the day with professional look.
It is always suggested for men to choose the best attire to wear. More number of fashion designing companies comes up with excellent designed shiny suit for people in competitive prices. Try to avoid some of the mistakes made in choosing your wardrobe.