Home > Articles >Satin Shirts for Men
Satin Shirts for Men
Satin is made up of tightly woven silk. It has a shiny look and is also very silky or smooth to the touch. The satin dress shirt is a button-up shirt with a collar and long sleeves. It is cut differently than a sports shirt or a casual shirt, which is made to be worn open-necked. Dress shirts are usually designed to carry a jacket and tie along with a suit, but can also be worn without one. Satin shirts are worn for get-togethers, dressy events, theme parties and other fancy occasions.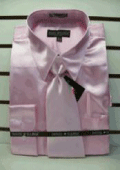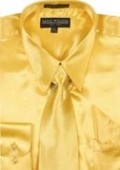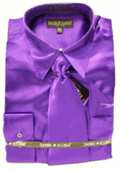 A collar frames a man's face and brings attention to the face and tie Narrow collars tend to lengthen the face. Wing collars make the neck appear shorter, whereas spread collar is best suited for bowties and tuxedos. Proper satin dress shirts do not have short sleeves. These shiny shirts look awkward with short sleeves. The cuffs on men's dress shirts fall into one of two categories: standard cuffs or French cuffs. Standard cuffs are closed with one or more buttons. French cuffs, on the other hand, consists of extra material to be folded back and held together with cuff links.
These Shirts come in many Colors for all kinds of Occasions. Bright colored Italy designed shirts are a great way to make your shirt stand out. Spice up Your Wardrobe with a bright colored Men's Satin Dress Shirt and tie combination. If you need to acquire some men's shiny dress shirts for dances, then satin shirts simply have to be on the top of your list. If you need shiny shirts with a matching tie then satin shirts need to be your first preference. Satin Shirts are used by people of all kinds of skin tones and stature, and they look absolutely great. You could also make use of these shirts for costume parties. These shirts can also be worn with a suit in occasions like parties. They are not best suited for formal events or business occasions.
When it comes to satin, there are multiple choices for colors like the traditional ones and the bold ones. The traditional colors include black, grey, dark navy blue and so on whereas the bold colors include red, green, light shades of blue, pink and so on. The traditional colors look more subdued and subtle than the bold ones. Solid dark colored trousers like dark navy blue, black and dark chocolate brown are best suited. Never go for casual khakis or colored jeans with satin shirts. Some recommendations for you to ace this look are always have pocket squares they add style to the entire outfit. Pocket squares can be worn to compliment your dress shirt along with your suit. By following the above simple rules you can ace this look with confidence and style. Your shirt cannot be complimented with a sports jacket. It is important to accessorize to look great in this outfit. Always wear formal dress shoes with these shirts. Oxfords, monk straps and brown wingtips are the best options.