Every man knows the core differences between white suits and mens white wedding tuxedos.
Mens White Wedding Tuxedos: Tips to Make Your Formalwear Fun
The first tip is your white tuxedo must fit you. Also, it should be sync with the overall vibe of the wedding. If the wedding is a daytime event, on a beach or outdoors, a modern white tux will bring a sense of fashion unity to the wedding. You want to show off your fashion sense as a couple. You may not know what your bride will wear, but you do know she will wear something that is bedazzling in its own way.
The main thing to remember when you wear one of the many mens white wedding tuxedos on the market is your body type. If you need a little bulk to rock the tux, wear a double-breasted jacket. If you want to look a little slimmer, try a fitted white tux with a little nip in the waist. That little nip will make you look slimmer. And if you want to add length to your body, wear a two or three-button white tux jacket with low button stance.
How Formalwear Should Fit
Remember your tux jacket's sleeve hem should stop at your wrist bone and about a half inch of shirt cuff should show past that hem. The jacket's bottom hem should cover your behind. And if the jacket has a back vent, it shouldn't pull open. If it does, the jacket doesn't fit. The most important aspect of wearing a white tux jacket is how the collar fits your neck. The collar should lay flat. If there is a gap or a bulge in the back portion of the collar, the tuxedo needs more tailoring. But accessories also play a role in pulling off a white tuxedo at any wedding. A white wedding tuxedo needs a little help from a special bowtie, cufflinks or a boutonniere. And a vest or a cool cummerbund will also inject your personality into the tux. Those tips will help eliminate those mens white wedding tuxedos that don't work on that big day.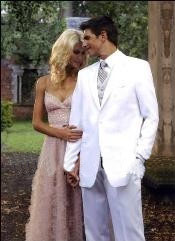 A white suit doesn't have covered buttons. And the satin lapels are missing from a white suit. Plus, the white suit pants don't have that satin stripe down the outer seam. But there are other differences between the suit and the tuxedo. They should be out and on the table before any man buys a white tuxedo for a wedding. As the groom, all eyes will be on you on your special day, so you want to look like you fell off a page of GQ. You want to complement your bride, and a white tux can do that if you follow the following important tips.