A tuxedo is the gold standard for formal attire. To meet that standard, men must focus on the details that make the tux a formal work of art. Even though wearing a tux on certain occasions has essentially been the same for decades, tuxedo wearing rules have changed over the last 50 years. The holidays are a good time to try something new, but most men don't know what to wear with their Christmas tuxedo. If you are one of them, you're in the right place. Here are some helpful tips to make your Christmas tuxedo look festive, fun and formal.
What is It About a Tux?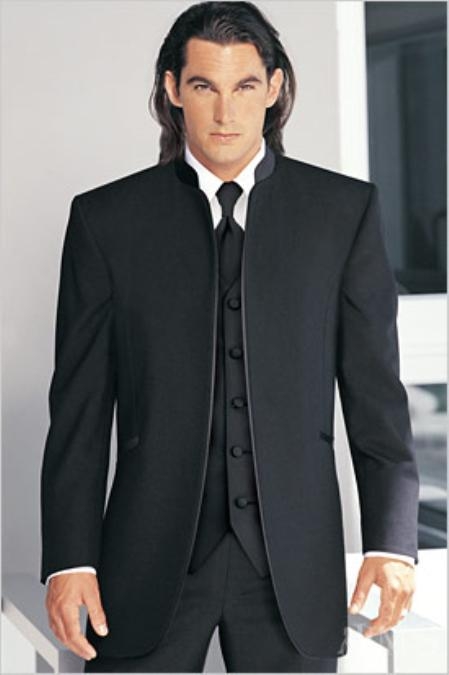 Here's the answer: When a man puts on a designer tuxedo, an aura of elegance mingles with his sense of commonality, and he feels like a noble. He is reborn into a dream world of luxury and chivalry. He becomes a man of courage, honor and justice. A man wearing a Christmas tuxedo with all the right accessories is in a league of his own, and he acts the part.
The problem is, most men have a hard time with tuxedo detailing because there are so many choices. Some of those choices can ruin the elegant high surrounding this regal suit.
What to Wear with Your Christmas Tuxedo
The first accessory and the one most people notice first, is the tie. A clip-on bow tie is an ominous sign. Nothing good comes from wearing a clip-on tie with a tuxedo. The fabric of the bow tie should match the fabric of the lapels and the stripe on the pants. The regal aura disappears, and the tuxedo-wearing man becomes ordinary again if the tie is a bummer.
A waistcoat or a cummerbund is essential if the jacket is single breasted. And a white linen or cotton pocket square is the bomb. But a red pocket square may also keep the man in good accessory mode. Forget the pleated front shirt. Wear a button up shirt with a classic spread collar and French cuffs.
Lace up patent leather shoes are acceptable, but a calfskin lace-up straight tip shoe is also part of a well-accessorized tuxedo. But a pair of Prince Albert slippers, or a pair of suede loafers with a tassel, will pull your Christmas tuxedo together. Wearing black suspenders and a pair of over the calf, black pattern socks can be classy, too.
Looking good means feeling good, so take your time to find the perfect Christmas tux, as well as accessories at MensItaly.com, the best place to shop for Italian suits.