There is a hidden advantage in owning a pair of Belvedere crocodile shoes.
You are not only buying a forward fashion staple; you are also buying a unique work of art. It's hard to visualize that art in a pair of crocodile shoes until you stop and think about crocodile skin. Every crocodile is different. All crocodile skin goes through a treatment process and the unique marks that define the crocodile's life surface in that skin.
Just think about that. Its minor bites and scratches, as well as the reptile's famous skin design, which only happens once in the crocodile gene pool, are in your shoes. So, your new pair of black and grey crocodile wingtips are museum quality specimens. But the artistic quality in crocodile shoes and boots is secondary. This is because the pure satisfaction of owning a pair of comfortable crocodile boots and Italian crocodile loafers is the bomb.
Reasons Belvedere Crocodile Shoes Go the Extra Mile
This is the age that celebrates generations before Millennials came along. Old Crocodile skin shoes are in shoe museums because civilizations found these magnificent animals provided some of the things they needed to survive. Even though most shoe manufacturers know how to make crocodile skin look right on a pair of men's shoes, Belvedere crocodile shoes go the extra mile. The reason is that Belvedere works with the right shoe factories.
Not all shoe factories know how to cut alligator skin correctly. A bad crocodile vamp on a man's shoe is the kiss of death for men who want to make a good impression. Crocodile shoemaking is an art, and here's where that hidden advantage comes to play. Belvedere doesn't design several styles of crocodile shoes because they want to. The company does it to satisfy the demand for different designs and styles of crocodile shoes and boots.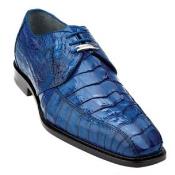 Belvedere knows men want to wear crocodile in dress shoes and casual shoes, as well as, slippers, rugged boots and dress boots. And every man needs a pair of Belvedere athletic inspired weekend and playtime shoes. When you want to buy a pair of crocodile shoes, do a search of the celebrities who wear exotic leather shoes. It's not just actors who put their best foot forward in a pair of crocodile shoes, though.Politicians wear them, and so do doctors. Any man who values quality and workmanship wears them. If you want to be a style guru, take the plunge and buy Belvedere crocodile shoes. Soon, you'll experience the art and comfort in your own version of crocodile chic.