Home > Articles > Everything you Need to Know About Overcoat
Everything you Need to Know About Overcoat
By definition, an overcoat is the winter jacket worn by men over a suit or casual business wear while going to work or other outdoor events. They are protective outer garments people wear to combat cold weather. In the winter months, it is an accessory that adds to style and distinguishes the well-dressed from the rest. It is obvious that when you walk draped in a knee-length coat with your scarf smartly knotted around your neck, you make a striking impression regardless of what clothing you have inside.
Most people opt for the single-breasted style in this type and most of the time it can be worn without a scarf. It can also be worn trimming the lapels, to display your shirt and colorful tie. The single-breasted styles can be worn with or without a belt. The belted model is sometimes called a polo coat. Black, charcoal, and navy blue colors are very popular and can be worn with any color shirt and tie you have underneath. A single-breasted coat with a narrow overlap and a single row of three or four buttons can really make the wearer look great. It is also more convenient as it can be worn open without any need to be buttoned up all the time.
To fasten a double-breasted one, you will have to necessarily lap one bit of the front well over the other. Double-breasted coat usually displays a double row of buttons with a single row of buttonholes. Four and six-button double-breasted ones are widely available in the market. It is unfortunate these are seasonal and will go in and out of fashion every few years. So if you are a fashion-conscious person, then it is good to purchase this outfit for sparing use and invest in a few fanciful single-breasted coats.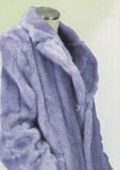 The first thing to decide on when purchasing an ¾-length overcoat is whether you want a full-length or a ¾-length outfit. A full-length coat usually looks is more popular amongst older men and they tend to add grace on taller men. Bear in mind that a full length jacket, to look good, should fall around the lower level of your shins, which is perfect for those colder winter days. A ¾-length outfit should fall anywhere between the lower part of your knee and the lower part of your trousers' pockets. This short version is definitely an ideal for younger men. It is also sure to mold your body perfectly – particularly if you have an athletic physical frame.
As regards fabric, cashmere is by far the most popular fabric used for overcoats. Cashmere wool is extremely warm, as well as rich looking. Zip up on the lining in colder weather, and simply zip it off once the temperature warms up. Lapels vary along with seasonal trends; you can choose between a classic, long, exaggerated, and wide spaced lapel. A good tailor can definitely offer valuable suggestions with regard to the qualities that can make them look trendy. That is the reason why if you can afford it, you should have one tailor-made fit. This way, you are not only guaranteed a perfect fit but also a matching superior fabric.