Home > Articles > Get Some Idea About Nehru Shirts
Get Some Idea About Nehru Shirts
There is a common saying that the way you dress up it speaks of your personality. It creates good impression on the onlooker. Men always look for a comfortable wear in which they appear smart and classy. Whenever, it comes to casual event they always look for something fashionable so that can make a style statement. There are various types of casual shirts available for men. Amongst all the types, nehru shirt is the most sought after apparel. It comes with a short unfolded stand up collar. It is highly classy in appearance and makes one appear graceful.
These Nehru shirts are available in different shades of colors such as black, white, cream, burgundy, navy, red and much more. One must select the color depending on trouser color and the skin tone. There are some colors which doesn't match every skin tone so you have to be careful while you purchase the apparel.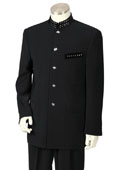 The collar button can be kept open. The nehru shirts are available in long sleeves as well as in half sleeves. So, you can buy the one that best suits your personality. One will get this outfit in different material such as polyester or cotton. It is advisable to choose the material depending on the season in which you are about to wear the attire. For example, during the summer or spring time, you will definitely look for something that is light in weight and keeps you comfortable and presentable in hot and humid climate. Shirts made out of cotton are ideal for the summer or spring times. On the contrary the attire fabricated from polyester is meant for the winter times as it helps to keep the wearer warm and comfortable in chilled weather.
The nehru shirts are available in designs and styles where some have chest pocket and some don't. One can wear this attire at different informal occasions such as wedding party or anniversary or business party. One may not get this shirt at any traditional store but these are available in wide varieties at many reputed online stores. However, it is advisable to keep certain factors in mind while you make purchase. Size is essential factor that needs attention. One must get the accurate size shirt so that it fits on him perfectly. It must not be too loose or too tight. It should have a perfect fitting on the wearer.
Each store has a definite measurement therefore sometimes it is quite difficult to get well fit apparel. One may opt for tailor made fit. There are some online stores that offer the service of custom made nehru shirts. You just need to give the accurate measurement and their designer will design it as per your specification. A well perfect fit and perfect cut can make one appear smart and refined.
So, what are you waiting for? If you want to make a style statement in your business event, then go ahead and purchase a nice looking nehru shirt.