Home > Articles > Mens Yellow Shoes: A Casual and Funky Style
Mens Yellow Shoes: A Casual and Funky Style
Yellow shoes might appear to be very bold and this might cause many men to avoid them as they wouldn't want to make a dashing statement. However, the color yellow for footwear has become so common and popular that it cannot be restricted as a funky color anymore. It can be sported by all men irrespective of their skin color, age or physical stature. Yellow shoes are however very prominent and noticeable, and hence never wear too many colors in the rest of the outfit. Keep the clothes subtle and cool. Make sure that the yellow color of the shoes does not clash with the colors of the clothes and wear matching clothes accordingly. Let the yellow shoes be the sole elements of focus and never wear anything that demands more attention than the yellow shoes. In the aspect of style, the yellow shoes can be anything from Oxfords, brogues, monk straps, wing tips to boats, loafers, canvas shoes and so on. Wear the right shoes with the right kind of clothing for the right occasion. Strictly speaking, yellow is not a traditional color for formal shoes. Hence it is not appropriate to wear yellow shoes to very formal occasions or very conservative occasions. Keep them handy for business casual, casual and dressy events.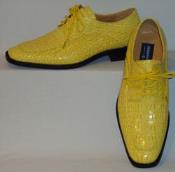 The most important aspect is the fit, as that can alone ensure comfort, give you the ability to move about freely and make the shoes last longer. If they don't fit well, there's no point in spending big bucks on great footwear and you put yourself at risk for everything like bunions, corns, calluses and bone spurs. Buying the wrong size of shoes is really common among both men and women that you need to have both of your feet measured and determine your exact shoe size. For some people, both of their feet tend to differ in size and length from one another. Make sure your shoes are comfortable, and your heel and toes fit snugly without having to cramp or jam inside your shoes. There should be approximately ½ an inch of space between the end of your longest toe and the end of the toe box. You should be able to wiggle your toes upwards. Verify your shoe size with our measurement chart in the website, which offers you a lot of details and tells you your shoe size accurately.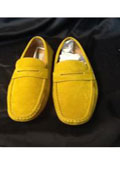 There are various kinds of shoe styles available depending on the formality of the occasion, the construction, the fabric and the structure. Select from a wide range of shoe styles in our website that appeal to you personally. Never be afraid to explore with new kinds of choices as you never get many chances to try out different things. Hence make use of the opportunity and order a cool pair of yellow formal shoes. Take good care of the yellow shoes by cleaning them regularly and having them shined. Remember that shoes are the first things that people notice about you. And these yellow shoes are sure to be well noticed and well received by your friends, family and peers. Shoes made from leather are well adapted to match formal outfits. The slim and contoured shoes exude elegance and go great with a luxurious custom suit. The heftier lace-ups with chunkier soles go great with skinny jeans or trim-cut suits. Be sure to wear the right shoes for the occasion as the right ones can complement your style and take you to the next level of being a trendsetter.
Machine washing and drying are very hard on shoes. If necessary, clean with dishwashing liquid, and then let the shoes air dry. Polish and Shine your shoes regularly to maintain a sleek, expensive look in addition to increasing the life span of the shoes. You can buy a great pair of yellow shoes at Mensitaly.com at the most affordable prices. Browse through our collection of the wide range of yellow shoes and pick the best that suits your personality and your need.