Home > Articles > Pick Up Mens Suits for Wedding
Pick Up Mens Suits for Wedding
As you dive into the wedding plan, you will probably begin with the big ticket items- the venue, the photographer, the caterer etc. Above all the most important item that is going to be very special for the day is the wedding suit for the groom. Men's wedding suit is one of the most important garments that should be concentrated on. Though men do not worry much about the outfits like women, they make all arrangements to be a perfect match to their ladies. Wedding suits need to fit the groom perfectly and that is what will give a handsome look for the big day. You cannot compromise on men's suit for wedding purpose on any ground.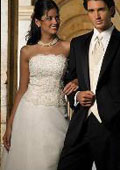 When buying a wedding suit the most important things to be kept in mind is to select a suit with great style, best fabric and fine stitching. Whatever you choose will have to reflect your personality and match your lady's attire. If she wants to dress up in a vintage style gown you will have to select a vintage style suit. At present more and more grooms are opting for tailored suit for the wedding day, as they want to look their best in clothes that fit. There are different types of wedding suits like re- use wedding suits which can be worn during any time and this type of wedding suits for men are not flashy and is more versatile. The re-use wedding suits are made of woolen fabrics and you can also get wool blend with polyester or on the higher end wool blend with silk.
Another type of wedding suit is the casual wedding suit usually used when the weddings are planned in beaches or outdoors in garden. The groom in this attire looks more casual and will have a kind of relaxed look at their wedding. Casual wedding suit colors are usually light pastels such as sand, off-white, tan, or bright blue so as to compliment the outdoor setting. Typically used fabrics are either cotton, linen or with a light weight wool fabric. This type of men's wedding suits can also be re-used later. Another type of wedding suit is the statement wedding suit usually worn for evening events and typically indoors, but can also be worn at daytime outdoor weddings. This wedding suit for men firmly solidify that the man wearing the statement suit at the wedding is without a shadow of doubt the groom. The fabric used is usually silk, as the fabric has a glossy appearance and is smooth to touch. This fabric forms the majority of the suit, and then the highlights such as lapel facing, pocket trims and button covering can be done in satin or silk.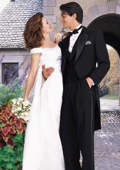 Wedding suits for men are one of the most important stuffs that need extra care and attention among the wedding plans that we make. He is going to stand out as the man of the day, but he is also got to look like himself and comfortable on what is massive day for him