Home > Articles > Mens Velvet Blazer Itself Carries a Fashion Statement
Mens Velvet Blazer Itself Carries a Fashion Statement
Men wear velvet blazers because these are classy, stylish, elegant and versatile. velvet blazers are appropriate for all occasions like parties, dinners, hangouts with friends or just for office. These apparels are versatile because they can be worn with T shirts, vests, ascots, or jeans, with anything we choose. The look of the outfit expresses the symbol of royalty because of its smooth texture and tonal complexity. Even if it is worn 10 times, still it stays lustrous and gorgeous.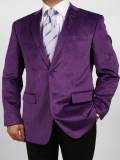 Colors of velvet blazers
Velvet blazers of men are available in an extensive range of colors. Depending upon the style the color of the attire should be chosen. Style wise, black is the best option because it fits in every occasion. As velvet appears to be rich and gaudy, the neutrals shade of gray, navy blue or taupe appear to be more incredible. A burgundy color velvet jacket makes the look more elegant whereas brown makes the look flamboyant expressing the trendy and the chic look best for a get together party.
Versatility of mens velvet blazers
Velvet blazers of men just fit it into any occasion. These can be worn in formal parties, dinners, casual purposes, as office wear, weekend get together etc. In formal occasions it can be worn on formal parties or dinners because the look becomes perfect and polished with the presentation. Generally black jackets are used for this purpose. It goes best with white or light blue colored shirt, grey trousers, bow tie and polished shoes.
While being casual, these outfits enhance the look by making it more trendy and cool. It creates a chic atmosphere. This kind of attire can be paired with jeans, T shirts and converse.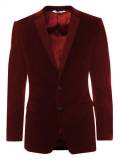 For a weekend party or get together velvet blazers give stylish look, a look just perfect being hanging out with friends with a macho attitude. Generally brown velvet jackets are used on these occasions combined with stonewashed jeans, belts and hiking boots.
Velvet blazers of men are versatile in nature because it suits every age. These can make a man trendy like a teenager and dignified like an aged person. These wardrobes are not confined to boardrooms and parties. These are used as casuals, as formals for teen agers, for office goers or for a dignified director. These outfits are used as fashion items which also keeps warm in chilled winters.
Online
Velvet blazers are obtained easily just by a click on online shopping. Various online shops, well known brands and popular designers display their catalogues on web. One can browse through their catalogues, choose the desired items, add to the cart and get it at their doorsteps. Manufacturers and exporters are also available who sell the items at a much lower price because of no retailing. Shipping is free and cash is to be paid during delivery of the item.