Home > Articles > Trench Coats: A Fashionable Statement
Trench Coats: A Fashionable Statement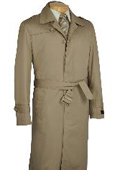 Trench coats were originated as British military garments, and were designed by Burberry during the nineteenth century. They are yet in demand, hardly untouched by time and have evolved to become more trendy and innovative. They retain their original design and structure till date and they still serve the functionality of a wet weather gear. They are roughly used in rugged environments like the military, adventure sports, and extreme weather conditions like a stormy day or a cold windy day. However they are quite common even on ordinary days and for occasions like work, outdoor walk during the winter and so on. A trench coat is a neutral colored overcoat that can be teamed up with a lot of looks since they hold a heavy versatility and boast of an elegant fashion statement. The traditional color of a trench coat is khaki or honey color, although they are available in a variety of colors now.
Trench coats are waterproof garments which keeps you dry in the rainy season as this garment has a coating that prevents the water from entering inside and ruins your shirt. Since they are meant to be used in bad weather conditions, they are usually made of wool, cotton, leather and other water resisting materials. Wool and cotton usually waxed to make it water repellant, so that they can be worn during the rainy days. Cotton is less expensive and more durable than wool but it doesn't offer the warmth that wool offers and hence is unfit for cold and wet weathers, limiting the coat's functionality. However, cotton blend with a water resistant wax is a good, affordable option for staying warm and also as a fashion accessory. Leather being heavier and warmer than cotton and wool, is a good choice for colder days but it isn't popularly used as the other fabrics.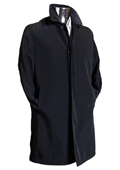 When it comes to buying trench coats for men you have to think about the occasion in which these are to be worn. You have to decide whether you want something to wear for work or you need something fashionable to wear on your suits or you require a causal garment to wear out at nights. So, you have to select the type depending on the occasion. Purchase a black or tan color coat either made from a combination of polyester and cotton or only cotton. Choose a garment that is long enough to hit your knees. Selecting a double breasted trench coat will be a good choice. This can be a perfect wear for work as it adds a touch of professional look to the wearer. But the length of this form is made to shorter and a bit close-fitting so you may not wear them over suits.
Shorter men who buy long trench coats are in for a major fashion faux pas as the length of their coats tend to be too long that sometimes they even touch their ankles. Wearing such long ones can look unflattering to the eye. Men should choose the length considering their height. Taller men who wear shorter coats can also present themselves awkwardly as too much of their legs are revealed that the coats start looking like oddly structured shorter jackets. Wearing a long and an unbelted coat, especially by petite men can make it look very bulky and an oddly shaped heavy wrap rather than a coat. Mensitaly.com has a wide range of collection of trench coats at very affordable prices in a variety of styles. Browse through our website to find the best trench coat of your choice and get shopping.