Home > Articles > Men's Suits for Weddings and Parties
Men's Suits for Weddings and Parties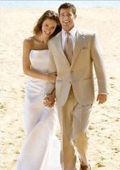 Men's suits have traditionally enjoyed tremendous popularity over the decades and deemed the right attire for different occasions like social events, business meetings, corporate functions and wedding parties. The charm shown by a besuited man will always remain unsurpassed and unbeatable, as he can confidentially flaunt the look with poise. The excitement in dressing up for a wedding or a party is something which strikes men and women alike. There are numerous looks that you can successfully sport to a dressy event and become a ruling trendsetter with your style. The various suits that you can sport for a party include tuxedos, solid color suits, colored suits, patterned suits, trendy suits and many more! The choices are endless and the options are wide in number. All you need to do is browse through the innumerable collections and pick out the best suit that befits your personality and personal style and you are good to go!
6 Style Tips To Rock Your Presence At A Dressy Event
Solid colored suits can be of the neutral colors like black, grey, brown or white and can also be of brighter, bolder colors like red, green, blue, yellow and lots more! They have the same color all over and they give the feel of a dashing fashion icon!

Depending on your choice, opt for the color that best complements your skin tone and your personal taste. Remember that confidence is the key to everything and you can virtually pull off anything when you sport that alone!

White suits have always been regarded as extra special because of the grace and the uniqueness it holds. It is sure to be a head turner and make people look up to you in awe, escalating your importance and your fashion sense! Go bold and purchase a white suit and stand out in the crowd.

Suits having patterns such as pinstripes, checkers, paisleys are surely unique, as not many men will dare to sport them boldly. Break the stereotype surrounding the patterned suits and opt for a classy patterned suit. Rock it with the right accessories and look like a million bucks!

Bold patterned suits include plaid which is one of a kind and an ultimate choice when you want to rock the occasion! Go for prints that are subtle and yet are bold enough to redefine your presence.

Browse through the innumerable accessories like shoes, pocket squares, ties, bow ties, tie accessories, solid finger rings and what not to complement your suit and increase the fashion level up one notch!