Home > Articles > Choosing Mens Suits for Your Most Important Day
Choosing Mens Suits for Your Most Important Day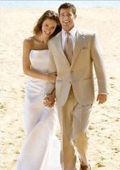 For most men, their wedding day is indisputably the most important day of their lives. As such, you would obviously need the perfect suit for that occasion. Business/lounge attire is considered to be appropriate for daytime weddings or less formal evening weddings. Dinner suits are better for more formal late evening weddings.
Wedding ceremonies are indeed grand occasions - full of pomp and gaiety - and shopping for wedding attires may be fun-filled and hectic at the same time. Finding the right suit for the bridegroom is very important to make the occasion unique and memorable.
It is better to start scouting for your wedding suit the moment your wedding day is set. Once you spend time in the shopping malls, you will be able to easily discern the prevailing trends in men's wedding suits. Choosing the ideal wedding attire within your budget will become easier after you visit a few shops.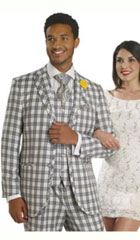 There can be no doubt that woolen material is the perfect and most suitable fabric. The only unfortunate aspect is the majority of people find woolen materials expensive. For individuals that have restricted budgets, polyester micro fiber suits could be a good alternative. Linen is a much sought after fabric for wedding as linen attires are light and comfortable to wear – particularly for summer weddings.
Some suits are just formal while some are more casual and relaxed. Some are simple and yet classic, while others are flashy and distinctly unique. The style is one of your personal preferences but you must look for a style that is in consonance with your deportment.
There are many things that you must not ignore when choosing the best suit and one of the most crucial factors is the fitting as any ill-fitting outfit will make you look grotesque – regardless of all their merits. For men who are of stout build, peaked lapel jacket is an excellent alternative. Tails are appropriate for long legged individuals. High vests look gorgeous on guys with narrow torso.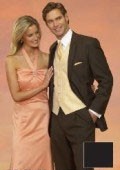 Make it a point to ascertain from the event organizer about the wedding or the event theme. This will help you decide on the suit color options. Skin complexion can also be a key factor for choice of color. Select a color that enhances your skin complexion and makes it glow. Mute shades like cream or maybe dark colors such as blue or black are indeed the best choice. The groom may also color co-ordinate his suits to match well with the bride's dresses.
Men obviously want to look their best and grab attention on the most important day of their life. Suits must be chosen with utmost care keeping in mind the color, style and fitting. It should be classic, impeccably tailored, and well fit. Even with a cursory glance, it should give the impression of quality, elegance and rich looks. The ties and shoes should also coordinate well with the suit.