Home > Articles > The Most Popular Men's Suit Colors
The Most Popular Men's Suit Colors
Mens Black Suits
Men's classic black suit is a permanent symbol of fashion. Even though fashion changes periodically and styles appear methodically, black suit has become a profound sign of men's majesty. It enhances the personality of men folks. It is the perfect selection for any formal dressing. They have transcended time and they are classic in quality. Black suit is in complete sync with colorful vest and ties. Black suits are worn for weddings, communions, church functions, family get together. It is suitable attire for business meetings, corporate engagements and so on. It will make you stand out. Pale colored shirts go well with black suits and soft patterned shirts look well too. Black suits are the epitome of formality as they are standard and define elegance. Black is the most popular color for a suit and it is widely acceptable to all kinds of venues and occasions.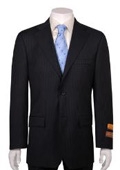 White Suits
White suits are meant to be worn during the spring or summer season and not during the autumn- winter season as white is a light color and is appropriate for a warm weather only. Wearing them during the colder days can make you feel cold and as they provide a flashy contrast to the dull winter, they can look very odd and out of place. They are outdoorsy and hence don't go well with indoor occasions like formal evening parties, dinner nights or indoor celebrations. They are meant to be worn for a casual picnic, cruise parties and other adventurous occasions. The dress shirts that you intend to pair with your white suit should never be of a bright flashy color as the suit itself is an epitome of flashiness. Dress shirts in soft pastels, checks or stripes can look very cool. Never go for too much of prints or patterns on the shirt. Colors that go with white include light blue, lilac, grey, white itself and other subtle hues. Never wear any other color shoes than black, brown or burgundy as they add a formal touch to the look and hence are necessary. The ties or bowties be subtle, and the colors and patterns that blend in with the outfit. Pocket squares can also be worn and similar to ties they should never stand out but subtly blend in with the ensemble. Avoid accessorizing too much as you don't want to steal the glance from your suit.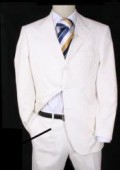 Other Colored Suits
While selecting brown suits or bronze suits for men, care has to be taken to match the suit color with the complexion of the skin of the wearer. Maroon presents a good combination with brown suit. It looks pleasant with any personality as it provides an ethnic look and down-to-earth feel. Brown suits can freely match with yellow, gold and tan colors. Men's charcoal brown suit with a grey pinstripe is the pinnacle of fashion. A wardrobe assumes significance because of the zenith of styles like this. The shades of men's brown suits for day and nights during summer or winter create a positive impression. Lightweight worsted brown suits, instead of heavy woolen, are very comfortable and graceful. Ark brown suit with a light pink shirt is good selection. Wear brown shoes with men's bronze suit. Good shades of pink tie become good match with brown suit. Light pink shirt with brown tie also is a good combination with brown suit. Brown and maroon go hand in hand. Matching the suit and the socks makes one appear taller. Bold socks with brown suits will bring down your total looks. First impression is the best impression. See that your dressing creates the best impression.