Home > Articles > Mens Gold Blazer Suits Various Occasions
Mens Gold Blazer Suits Various Occasions
The color gold is considered to be best color compared to blue and yellow as far as suit is concerned. Mens gold blazer with proper fitting can be refurbished into an office look. This apparel will give an authoritative look on the wearer. This color goes well with any kind of personality. With this attire you can look differently by wearing shirts in different shades of colors. Shirts with multiple patterns like bold stripes, checks or fine stripes will look great with this attire. Your perfect selection of tie and shirt will not only refurbish your appearance but it also speaks of your taste preferences. Through your dress-up one will assume your performance in the work. By doing some brilliant pairing of the color and pattern of your suits you can boost up your personality. It is because, there is a common saying that the way one dress up it speaks of their personality.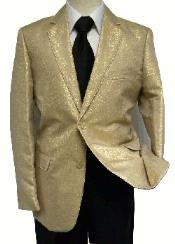 You should get a clean and clear cut suit. It must have a perfect fit on you and it should not be too saggy or tight then you may look odd. While selecting shirt for this outfit one needs to be very careful. It is best to pick up a shirt which is of light color. Light color shirt will go well with this one. Choosing light golden color, white or pastel colored shirt for this outfit can be a wise decision. Or you may pick a shirt in light blue for your suit. This can be a fabulous combination and will give bring an authoritative look on the wearer.
As far as tie is concerned pick up a darker color. Else you may keep the tie color as same as the color of the shirt. This golden color apparel is apposite for several occasions. This color is never controversial and looks great on anyone. It is best for a professional outlook. This comes in various shades of gold and you will definitely get one to match you.
It is such a color that can be worn both in winter and summer. Day or night time, you can wear them anytime. It is believed that man wearing this color dress reflects professionalism and steadiness. Everyone buys this with the thought that they will wear it for several years. Therefore it is advisable to purchase a light weight blazer instead the one that is made from wool. This combination is perfect for attending any business meeting or presentation. When buying you have to specify the fabric and style of the suit. This outfit comes in two or three or four buttons. There are various types of suits like double breasted, linen, Italian, church and so on.
Nowadays, you can do the purchasing through internet. Several stores are present online from where you can buy your apparel. Pictures, size, colors and all detail information are provided in the websites. By choosing a real and authentic dealer you can purchase your choice by paying through safe payment system.