Home > Articles > Important Factors for Choosing Great Men's Suits
Important Factors for Choosing Great Men's Suits
There are quite a few important factors to be considered before purchasing men's suits. It is the defining male attire reflective of the wearer's personality. While the finer details of suit such as color cut and fit might have been changing from time to time, the fact remains that men have been wearing suits all along for the last several hundred years.
Mens Suits Fabrics
One of the key factors when choosing a suit is the fabric - wool, flannel, cotton, and linen. The choice of the fabric should depend on the local climate and the environment in which one would wear. If you are an infrequent wearer of this attire, then light weight wool must be the right option as it can be worn round the year. For winter season, you cannot conceive of a better fabric than flannel.
A well-tailored flannel one is indeed warmer, more comfortable and looks elegant, particularly if stitched in gray hound tooth. Cotton is comfortable as a casual wear during transitional months, while linen is strictly meant for summer months. As regards linen clothing's, you must learn to press them properly to keep it looking in shape.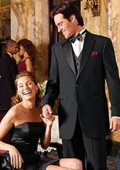 When it comes to high quality and aristocratic looks, there is nothing to match woolen attires. In wool coats, the higher the thread counts, the higher the costs. Further, the higher the thread count, the finer the weave and delicacy of the wool fabric. If you have enough money and required to attend prestigious occasions often, then by all means opt for thread count higher than 300.
Single breasted, Double breasted Mens Suits
As is known to many, buttons, stitching and pockets are the other key components of good attire. As regards stitching, if the seams are glued, then avoid buying them. The glued seams will give way within a year or two. While a hand-stitched suit may not be all too perfect, a machine stitch will look precise and finished properly. Examine the pockets and undersides of the lapels - poor workmanship in stitching in these areas will be too glaring.
Single breasted ones generally come with two or three button styles. The two and three button single breasted jackets look marvelous. Double breasted ones looks more formal in style and it comes with four to six buttons. Most men prefer double breasted for parties or business events to enhance the day with professional look.
Mens Suit Colors
When choosing the color of the suit, most men are unaware what colors compliment their skin tone. Thus instead of choosing a color that enhances their looks, they end up choosing a color that simply appeals to their eyes. Navy blue, black and charcoal gray are the three colors that dominate men's clothing.
Brown color suits range from a light shade through a dark chocolate hue. Many men look imposing in brown attire and have a brown as part of their wardrobe. For the warm weather and tropical areas, tan colored ones are an excellent color choice. As a color that falls between gray and brown, taupe is a great addition for the man who already has a couple of basic colored ones in his wardrobe.
Light Gray is a great spring and summer color and for those who want to keep a low profile. White, as is known to all, is the classic color for summer time. A white one indicates confidence, especially in the United States where a suit in this color is hard to come by. The colors and styles depend on several occasions and the right one should be picked for the right occasion otherwise it may look ridiculous.