Home > Articles > Factors That Help You Select Gator Skin Shoes
Factors That Help You Select Gator Skin Shoes
Once there was a time when people used to wear shoes just to protect their feet against harsh climate and critical terrain. But now men are more concerned about their appearance and look for those accessories which can be best for making a masculine statement. Presently, gator skin shoes are considered to be the most premium quality and stylish footwear to make a style statement.
As the name suggests, these shoes are made out high grade supple skins of alligator. Original skins are used to manufacture this footwear. Manufacturers come up with new designs every time so as to match the changing fashion. These are bit expensive but fashionable to look at. This footwear can be worn at different occasions such as wedding party, business meeting or social gathering or luncheons. One can wear gatorskin models with different outfits such as tuxedos, suits, jackets or with some other party wears. It is believed that this footwear can define the taste preferences of the wearer. Moreover, it can speak of your personality and economic condition.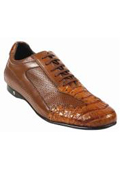 These shoes are available in different patterns, styles and colors. The unique patterns are got from the processed skin of alligators. Men prefer wearing gator brand because of its unique collections. You will never find any two gator shoes that are matching in their design and style. If the shoes are worn properly and if you can choose the perfect model then you can actually make style statement. There are some factors that need consideration while purchasing. Let's have a look on four factors that need attention while purchasing gator skin shoes.
Comfort: While purchasing it is essential that one must look for the comfort. If you want to be best in your outfit then it is essential that you are comfortable with your outfit and other accessories. Footwear plays a dominant role in enhancing one's appearance. As long as you are comfortable in your footwear you will look great but if you feel uneasy then you won't be able to make a style statement. Therefore you must purchase a pair of shoes in which your will be comfortable.

Durability: Along with the comfort, durability is also an essential factor that needs consideration when you purchase any footwear. If the footwear is made out of fine quality product then you can ensure that the product will last long.

Style: No matter what type of model you purchase it is that your footwear must be stylish in appearance.

Size: You must choose the right size to feel the comfort and fine fit.
These gatorskin shoes are considered to the best accessory to bring out the best in you. It can make you look smart, trendy and sober. If you want to look different from others then go ahead and purchase a nice pair of stylish gator shoe. There are several online stores that offer wide range of collections. You can visit the online site of particular store to check out their latest collections.