Home > Articles > Exquisite Mobster Suits On Sale
Exquisite Mobster Suits On Sale
Dressing like a mobster is of a great fashion since many years as the character pose a bit stylish and brave look. For costume parties, the character suits are an inevitable one as many men look to flaunt style as a mobster. This fashion suits of mobster was introduced in 1920s and 1930s, the most stylish piece of clothing that gave the character a special note. As the fashion and taste for apparel among men changes every now and then in the late twenties, the structured suits underwent the transition which gave the way for the emergence of new style mobster suits with natural cuts and fine fabrics.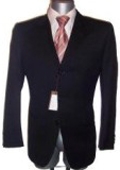 The mobster of golden age has fixed their costume as wearing a black suit, hat, cigar and gun. In order to give a bit terrific and bold look they largely had depend on the custom made suits with a raccoon coat, matching silk tie, a canary yellow or green silk shirt typically the style of late twenties mobster. The characters like Godfather, Scarface, Goodfellas have made the attire even more popular. The finest quality suits that are sewn by best tailors when paired with right accessories have made the character perfect that even follows the trend on the track.
The mobster suits come in both single and double breasted type. Well, the single breasted two button suit gives the typical earlier stage mobster look. For the current modern trend the double breasted type goes apt for the modern men. Dark shade jackets such as black, brown and navy shade with herringbone or pinstripe pattern giving a modern and sophisticated appearance are the typical features of modern men mobster suits. To get the look complete, the suit has to be paired with right apparels and accessories such as bold color dress shirt, a white tie, blended white and black hat and two tone dress shoes. The other flashy embellishments like cuff links, rings, watches and bracelets add even more classiness to the character. Belts or suspenders have to be worn with this type of suit.
Some of the categories of mobster suits include a combination of black and white pinstriped jacket and pants with elastic waistband, package of white suit jacket, red shirt and white suit pants, retro style of long black jacket with white pinstripes, satin collars, front buttons and pants, the other final combination includes double breasted black polyester suit jacket with thin white stripes.
The mobster suits feature a bit roomy look with pinstripe pattern and a contemporary colored tie. If you want to flaunt a Capone look then go for a solid colored suit (blue, brown, grey) with light weight fabric. The suit made of Super 180 wool Scabal-cloth model gives the finest look on the wearer irrespective of his physique tall or short, big or sleek. Some of the branded companies like Brioni, Ralph Lauren, Diesel, Calvin Klein, Gucci, Armani, Burberry Porum, Hugo Boss, Dolce & Gabbana, Lacoste, Denim and Emporio Armani stand top in offering best quality mobster suits. The suit features a different style for young boys and adults that differ mostly in the design and pattern. Remember, the black jacket is always the standard one to flaunt style in a typical mobster costume.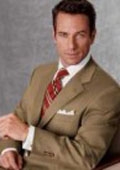 Some of the latest collections of mobster suits include Men's 3 piece 4 button Luxurious Wool Feel Suit, Vintage Blue Double Breasted Milani mobster Suit , Men's 3 Piece Classic Pinstripe Wool Feel Suit with Vest, Mens Black Pinstripe vest Dress Suit 54 R 54R New Super 120's, Men's 3 piece Luxurious Classic Pinstripe Wool Feel Suit Navy style, 3 Btn blue pinstripe chalk stripe vested 3 pc Suit 44 46 R gatsby mobster.
Include this mobster suits in your wardrobe and flaunt style in a bold masculine look. No attire can replace the classiness of this suit. While buying mobster suits better opt for the complete package that come with matching shirt, tie and trousers. The irregular or matchless apparels will completely ruin the classy look of the clothing. Check out the new arrivals of mobster suits in mensitaly.com and grab your best one.