Home > Articles >Enhance your personality by choosing quality men's suits
Enhance your personality by choosing quality men's suits
Be it in social gatherings or business meets or at workplace – people have a tendency to judge you by your appearance, it is said that dress makes half man and there is no male garment that can surpass a man's suit when it comes to enhancing one's personality.
When you are wearing a well tailored suit, you are considered as one that is neatly professionally dressed. When you appear wearing a suit, you invariably stand out and noticed by all others - and if you wear a classy suit, you will assuredly make heads turn.
One of the strange powers of a man's suit is it can transform your total physical personality and also influence your mental attitude. When you dress in a suit like a professional businessman, you will straightaway begin to act like a professional corporate executive. The transformative effect of a man's suit is so impactful that you will suddenly begin to feel self-important and assertive.
A person who wears a suit learns the value of self discipline and he is able to conduct with dignity right from 8AM to midnight, from office to a social meet for drinks. Women develop an instant fascination for men who appear neatly dressed in an appropriate suit. With suits predominantly covering your body, it is only too evident how important a role it plays in how you are perceived by others.
Dressed in a suit looks more professional
The men's suit, whose origin can be traced to military attire, was designed to highlight a man's strengths. When cut with finesse and made with a rich fabric that compliments the wearer, the suit signals authority and commands respect.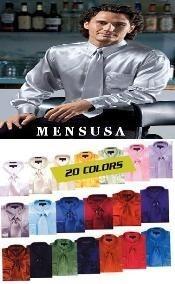 When you are professionally dressed in a suit, you can appear more important to the success of your company and may even help you progress in your career.
Importance of men's suits and its aspect
In a competitive scenario, it pays to be dressed in a well tailored and perfectly fitting suit. You should thus appreciate the importance of men's suits and bestow enough attention to various aspects when buying the suit – fit, fabric, color, style etc.
When it comes to men's suits, colors and patterns are terribly important as they grab people's attention. Choose colors that accentuate your natural skin tones and as regards patterns, do a bit of research to know what patterns wok best for you. Never wear an odd-colored suit -alternately, opt for something more neutral and conservative. Generally nobody favors a brightly colored suit.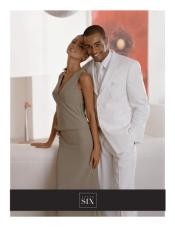 The acceptable suit colors are black, navy, tan, olive, gray, white or brown suit. The men's suit etiquette does not support pale blue, pale green, violet, indigo, purple, or orange suit. The patterns that are deemed acceptable for a man's suit are pinstripes, large pale large check, small check, or hound's-tooth.
Wearing your new suit will doubtless enhance your overall personality but the suit must meet all quality standards. Here are the important parameters that distinguish a quality suit from the rest.
The foremost critical aspect of a quality suit is a perfect fit. A suit should never be too over-sized or too undersized. A suit should be as close as possible to a perfect fit.