Home > Articles > Empower your personality with zoot suits
Empower your personality with zoot suits
Zoot suit – Best attire for Halloween parties
Being part of urban-American fashion, as far as suits are concerned, people have their own tastes. While many go for tuxedo and other styles, fashion avid people have a preference over zoot suits. Despite being worn by a relatively small number of people, zoot fashion may be silly but, it is fascinating and no other outfit can give you such an excellent look. Appropriate for informal occasion types they are the best attire for Halloween parties. While wearing them, there are certain guidelines that you should be following in order to empower your personality.
In view of the fact that, perfect fitting is a main factor when it comes to fashion, make sure that you don't overlook this facet. For the best fit you can custom-tailor according to your exact specified measurements, arriving to you ready to wear!
Right zoot suit makes you look decked
The prerequisite to obtain a right suit does not really mean you need to alter your complete look. There's an unbounded sum of methods to let your style shine through your attire. On the other hand, an ill-fitting men clothing could be seen even from miles away and hold a negative effect on your own image. Having the right fit on you will make you look decked-up; together with the right accessories they are sure to have an apt look. So having the right fit and further having it altered is rather significant, generally in Zoot suits there are certain things that lays a great emphasis and are: neck, shoulders, sleeves, chest, waist and also inseam.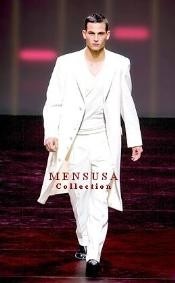 There are several online stores that are selling quality outfit, make sure that you take a look at it before getting one for your special occasion.