Home > Articles > The Uncompromised Quality Lucci Suits On Sale
The Uncompromised Quality Lucci Suits On Sale
Men's suits play a vital role in business meetings, job interviews, formal dinners, weddings, formal parties, dressy parties, proms, everyday work, ceremonies and festivals, and other special occasions. There is a sense of manliness and class conveyed through suits which are quite absent in other outfits. Suits can be worn by all men, irrespective of age, skin color, height or weight. When we think of suits, we always wish to buy quality brands as they look amazing and are very durable. Calvin Klein is such a brand which has earned its reputation through the quality products it provides. Calvin Klein is a prestigious brand which has a very sophisticated and elegant suit collection. The suits of Calvin Klein are high in fashion sense and are also very popular among people from all class of societies. The suits of Calvin Klein complement other accessories like shirts, footwear, eyewear, shoes and many more perfectly well. The other products of this brand include watches, eyewear, sportswear, underwear, swimwear, jewelry, jeans, perfumes etc.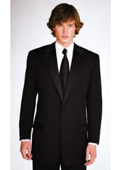 The Construction Of Calvin Klein Suits
The formal black suits and tuxedos of this brand are perfect evening wear for dressy parties, formal events, fancy dinners and so on, while the others are best for day wear. The Calvin Klein suit jackets can be either single breasted and double breasted. Single breasted ones are mostly worn in casual and informal occasions whereas double breasted are for typical formals. The contemporary designs of the double breasted coats consist of button with two vertical rows with overlap spanned on both right and the left sides. Single breasted coats overlap on the sides and consist of buttons with a single row. The pants of this brand have detailed sizing that would help you nail the fit perfectly well.
Nailing The Fit
Short and broad men should stick to single-breasted jacket as it adds height and makes them look slimmer. Muscular and vertically lifted men should prefer clean, smooth, pleated shirts or double-breasted jackets to avoid looking bulkier. Men with heavy waist should go for vest rather than cummerbunds as that will draw the attention away from their waistline and up towards their faces. There is a very detailed size chart on this website that can help you determine the exact size for your shirt, trouser and jacket. There are guidelines present in the website which tell you how to take your own measurements, compare them with the size chart and conclude your exact size.
Fashion Tips To Rock Your Suit
Neckties of darker shades than the shirt of the wearer should be used with a suit. Instead of neckties, bow ties can also be used but while choosing neckties or bowties the fabric should be checked so that it complements the fabric well. The socks used with the suit should match the leg of the trouser. If the color does not match with the trouser leg then it should match the shoes. Socks should be of darker shades than the trouser because the attention then remains on the trouser and not on the socks. Those who are interested in purchasing these branded attires can browse through the catalogues to get their desired items.